At the Tufts Entrepreneurship Center, in addition to shepherding 450 enthusiastic and curious students a semester among 16 wicked smart professors, I've been focusing on building an event structure throughout the year that leads up to our $100K New Venture Competition in the spring. Right now, you should Mark April 5th in your calendar and come and participate in what Forbes ranks as one of "The top 15 business plan contests in the country."
So, far this semester, the Entrepreneurship Center has held...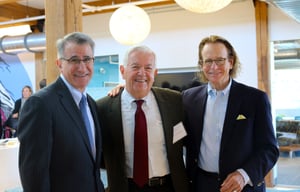 A two-day Founder's Workshop kicked off by Tony Monoco, President of Tufts introducing Bill Cummings, founder of the Cummings Properties and author of the recent best seller Starting Small and Making it Big, an Entrepreneur's Journey to Billion-Dollar Philanthropist. Bill is a passionate Tufts alum, and with his wife, Joyce, have become the largest philanthropists in Massachusetts, providing hundreds of gifts to small not-for-profits. I am very privileged to be the Cummings Family Chair of Entrepreneurship.

Our next Founder's Workshop focused on "People & Money" will be held on February 8th!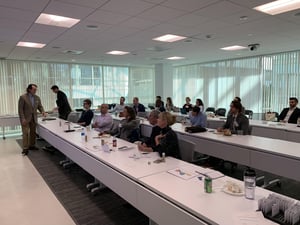 A two-day Boston Venture Road Show, where we took our nine winners of our April $100K New Venture Competition to our hosting partners, Silicon Valley Bank and to Mass Challenge, where we brought 12 different Boston-based early stage venture capitalists to each day to listen to the pitches from these award-winning students. Different from a judging contest, these heavily experienced investors were able to provide direct and constructive commentary along with direct leads for future investment. Just superb feedback from the investors and the students!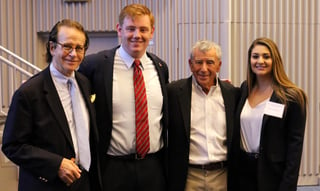 The Tufts Legends of Innovation & Entrepreneurship Award occurred this past Friday on stage with John Bello and me, pictured here with superstar Student-Athletes, Maria Dattolo and Dan Dewing, who introduced John, in a one hour interview in front of 450 students, professors and administration from across all of the Tufts' campuses.

Since I've taught at Tufts for 13 years and have now taken on the position of leading the Entrepreneurship Center, I've realized the incredible depth of entrepreneurs that have come out of Tufts including a founder of eBay, the co-founders of Warby Parker and founders of hundreds of other very successful companies- including John Bello. As a result of that realization, we created this award to recognize those alums in the fields of innovation, research and entrepreneurship, which we will now award twice a year, once in the fall and the other at the $100K in April. Through a process with a number of alums, we identified John Bello as our inaugural recipient of this award on the basis of these as his primary credentials:
President and CEO of The NFL Properties, turning a very tiny organization into the market juggernaut that it is today.
Founder and CEO of SoBe, creating one of the strongest brands in action sports, health and energy drinks before he sold it Pepsi.
He then followed SoBe with doing the same thing with Izze when he came in as Chairman.
Along the way after Izze, he also led

Lumify

, (sold to Bausch & Lomb) and Beso Del Sol.
He received EY's National Entrepreneur of the Year in consumer products along the way.
...before now starting Virgil's and Reeds Ginger, two very fast evolving energy drink brands
On the basis of these achievements as an entrepreneur and as a passionate Tufts alum, plus the fact that John has no desire to slow down, we decided that he would be the perfect recipient of our inaugural "Tufts Legends of Innovation & Entrepreneurship Award".
On stage, John did not disappoint ! Energetic, blunt, enthusiastic and directly focused on our students, he left us with a series of life lessons, which I have bulleted below in no particular order since they are all critical in any business and in any career:
LIFE LESSONS FROM JOHN BELLO
"Read consistently" in everything that you do. Be a constant reader, take notes and discuss what you read with others.
"Constantly network and keep your connections", and market yourself and what you do. Network everywhere, and make sure that you follow up and maintain those connections over time.
"Be a Disruptor" and go beyond what is standard and normal.
"Practice leadership all of the time and remember that it is as much an art as it is a skill."
"Believe in your own theme, your own vision of what you want and what you want to be."
To be successful, you must remember that "you need to constantly sell something"-yourself, your products or your services, and your vision of who you are and your work.
"Pick and choose what's important to you and focus all of the time knowing that what's important today will change over the seasons of your life."
"Today and every day is the time to win."
"Ideas are easy; actions are hard"
"You gotta do the work!"
A very inspiring afternoon and a perfect way to end the week!
And, speaking of Tufts- "Content in Context"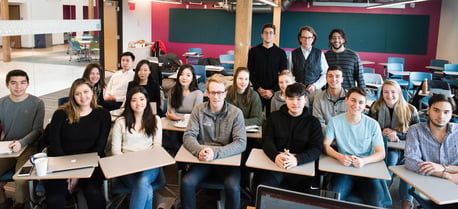 It's that time of year again, when I go out to our greater blog, LI, FB and Twitter communities and begin the process of soliciting complex, semester-long Marketing projects for next semester. When I began teaching at MIT 20 years ago, and then at Tufts 13 years ago, I quickly realized that the only way I was going to provide any meaningful content...and keep my students awake...was to wrap that content within the context of real companies who needed new or updated marketing plans. Our clients for these courses range from tiny startups often looking for their first marketing plans to large public corporations who are launching new products or are looking for a different perspective from young adults.
We're looking for six Marketing projects for the spring semester which starts in January
Your marketing project might be for an entire company or for a specific product
The businesses range in size from startup companies to public corporations
Each project will be assigned to a student team of four to six students
At least two of each team will have solid prior marketing sales experience
The project definitions and the syllabus are sent to the students on December 26th
There is research work that they will need to do in January before coming to class
The deadline for applications to be submitted to me is December 7th
If you are interested in participating, please just email me at jack.derby@tufts.com or text me (617-504-4222), and I will send you the instructions of how to participate.
Have a great day selling something today!

Please stay connected!

Jack Derby, Director, TEC-Tufts Entrepreneurship Center
Cummings Family Chair Professor of Entrepreneurship
Spark-Incubate-Accelerate@Tufts
Come to our Events
Cell: 617-504-4222 jack.derby@tufts.edu

Advisor, Derby Management, experts in-
-Sales & Marketing Productivity
-Business and Strategic Planning
WHAT WE DO AT DERBY MANAGEMENT