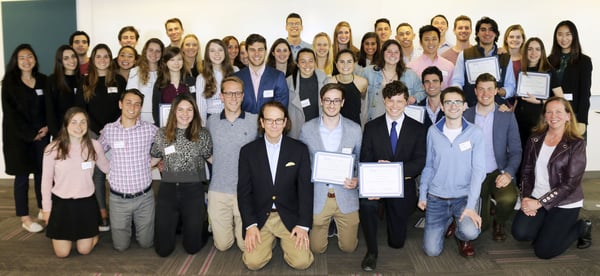 After this first year in my new role as the Director of the Tufts Entrepreneurship Center, now that we have a solid understanding of what we have, and we don't have, I'm spending time visiting the heads of the local universities to figure out how and where entrepreneurship fits into their organizations. I'm doing this partially to understand their organizational structures of what works and what doesn't, partially to assess "the competition" and mostly to be able to better express what's unique about Tufts' own brand of entrepreneurship. These interviews, plus talking with hundreds of students and alums, and having just completed our first-ever "Impact Report on Entrepreneurship at Tufts", will lead to developing an updated two-year business plan this summa'.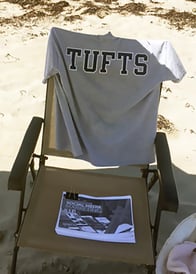 I love working on "Tufts' Stuff" on the beach. It justifies, just a bit, my excuse to be on the NH beach and not commute into campus
By the way, if you would like to receive a copy of this just-released "Impact Report, just email me at jack.derby@tufts.edu, and I'll send you a copy.
The Impact Report work is dynamic and all the more so since it was done by our students, led by Team Captain, Leila Li, a remarkable student leader and friend.
One of my first stops in assessing other universities was Babson, perhaps the most highly rated university in the world when it comes down to encompassing "entrepreneurship" in everything they do. As I and a few of my associates visited with the senior leadership of Babson, I was struck by...

… the unrelenting focus on exactly the same language that all of the members of the Babson senior management team used in their words, their expressions, their level of detail and their expressive energy when they described what they did for their students in entrepreneurship.
...they also used that same level of exactness and energy to describe what they have purposefully chosen not to do. Also a relentless focus to be totally focused on what they have chosen to do!


As I've thought about that meeting a couple of weeks ago, I also found myself reviewing those companies that I know and work closely with that are successful both financially and in terms of achieving very high employee and customer satisfaction levels.
They know that Core Values Matter



At Reiser, a privately held food processing and packaging company where I'm chairman, Roger Reiser has built this market-leading company on the simplicity of the single word "trust", reflected directly in the company's logo with two hands shaking under the company slogan of "built on trust". In a highly competitive industry, Reiser stands out since this core value of trust is backed up with intensive and consistent training, a relentless focus on the customer and an extraordinarily strong commitment to our employees and their families.

- Hubspot and Kronos are two other high-growth, locally-headquarted companies with very high employee and customer retention levels that are voted as "Best Places to Work" year after year and have dynamically strong and expressive leaders in Brian Halligan and Aron Ain who are consistently strong a vocal cheerleaders of their companies.

- At Tufts, from students to administration to faculty, everyone knows and lives the values of this unique university in creating "active and impactful citizens of the world". No one needs to be reminded

since this value is infused into the DNA of everyone who touches the Tufts mission...


"

To be an innovative university of creative scholars across a broad range of schools who have a profound impact on one another and the world.

They have a very focused "Command of the Message"

They have strict command of what, who and why they are, and the managers and the employees all use the exact same messaging in describing their company, and what they do. I've found that the words are exactly the same not just among the senior management, but they also echo through the voices of the employees. Additionally, I find that the messaging internally on core values mirrors directly to the messaging delivered externally through their marketing tactics and among the voices of their salespeople.

-Babson does this extremely well in their expression of what constitutes entrepreneurship in every discipline and in every market.

They are HUMAN Leaders


At the very heart and soul of the Items #1 and #2 above are extraordinarily bright, articulate and impactful leaders who not only lead by example, but are personally approachable and expressively human in everything they do, and in the manner and openness with which they do it.

- I was struck and impressed with the clarity and the directness of Kerry Healey, President of Babson in her comfort in stating the mission and culture of the college without it sounding like a mission statement.

-Obviously, I'm biased when I talk about Tony Monaco, President of Tufts, but trying to be somewhat objective, whenever I listen to or talk with Tony, I'm overwhelmed with the passion, the dedication and the clarity of thought that he brings to the university at every level and especially with our students and alums.

-A few weeks ago, I invited Aron Ain, CEO of Kronos to campus to talk to our students about his company and his new book,

Work Inspired.

Over pizza on a Friday afternoon, Aron held this large audience in the palm of his hand as he took command of the room and talked about the intersection of Kronos' core values and their impact on employee engagement, retention and customer satisfaction metrics. His talk ended with a standing ovation and a long line of students wanting to talk with him and his recruiters.

-Roger Reiser, CEO of Reiser, is a strong leader with an unwavering commitment to building value for his customer and being human with both his customers and employees. An ex-Marine, Roger brings to the forefront in everything that occurs at the company a personal level of detail totally focused to providing more value to Reiser's customers. In his messaging and his relentless commitment to providing value, it's no surprise that the principle message at the company is one of "built on trust".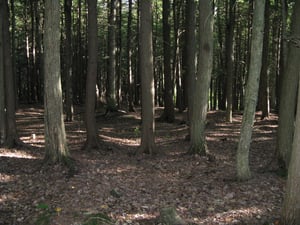 So, just a few management, sales and marketing ideas to think about as we all plan to jump headlong into the summa this weekend. I, for one, am abandoning the NH beach to head to Vermont and explore the solitude and hard work of cleaning up my woodlot always under the simple slogan that a clean forest is a happy forest...plus it goes a long way to clearly my head to enable me to write business plans
Enjoy the weekend...and keep focused in whatever you do!
At this time of year, I am also beginning the search for complex, semester-long marketing projects for the fall semester. The deadline is June 15th. Just connect with me, and I will send you the instructions.

An extraordinary opportunity to receive detailed marketing research and tactical plans from a fresh perspective. After close to 180 projects from just my own students, the overall results have been extremely strong and highly graded (50% of the grade comes from the senior manager of the host company). The companies cover every possible market and range in size from the development of complete marketing plans for tiny startups and middle market companies to product launches for large public corporations

Please stay connected!


Jack Derby, Director, TEC-Tufts Entrepreneurship Center
Cummings Family Chair Professor of Entrepreneurship
Spark-Incubate-Accelerate@Tufts
Come to our Events
2019 $100K New Ventures
Cell: 617-504-4222 jack.derby@tufts.edu
Advisor, Derby Management, experts in-
-Sales & Marketing Productivity
-Business and Strategic Planning
WHAT WE DO AT DERBY MANAGEMENT