Contact Us:
Jack Derby at jack@derbymanagement.com
George Simmons at george@derbymanagement.com
Derby Management
Box 171322
Boston, MA 02117
Whiteboarding Sessions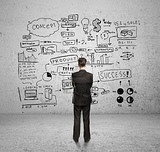 Our Whiteboarding Sessions are intensive discussions custom-designed to the your needs. They are architected to respond to the specific issues and objectives that have been raised by the CEO or other C-level managers, board members or investors. Based on analyzing five basic business categories, our Whiteboarding Sessions quantitatively and qualitatively focus on the business as it relates to the company's core competencies, the management, the market, the sales and marketing processes and the financials.
These sessions are intensive rapid-fire dialogs lasting either a half or full day and typically ending with assignment and follow up activities...most often with plenty of telephone sessions and repeat visits to the whiteboard.
Learn more about our focused whiteboarding sessions