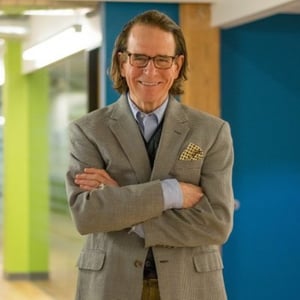 Today, hopefully you're heads down and totally focused on completing the year ahead of plan. Whether you're in the profession of sales or you're an artist working on delivering the last of the Christmas ornaments, next week is the week when all of the marbles get measured. Yea, I know...the month doesn't end on the 20th, but for all practical purposes, it really does. Even if you're planning to work on the 24th and the 30th and 31st, you're going to be very lonely sitting at home talking to no one, so this is the last week to "Git-R-Done!"

As you're lining up calls, connections and closings today while keeping an anxious eye on the disappearing minutes on the clock, keep very focused on just three things:
Don't Overthink

.

Your work today and next week is all about your focus to close deals in five days from today!
You are not in the business of providing creative strategy or product development solutions for your prospective customer that will impact their business two or three years from now. You're the solution and business value provider whose company will provide the absolute best products and services that will improve your prospects' 2020 business results by increasing their revenue, their gross profit and their net income.

Be Human

With a short countdown till launch of only five days, be human and project your own humanity of working 10 and 12 hours a day at this time of year to the person on the other side of the table-phone-text-email-videophone. They're just as stressed as you are and have equally stretched schedules of work, kids, teacher conferences, holiday parties and wicked travel. Yesterday, it took me two and a half hours just to drive from Logan to the Back Bay...and there were no accidents. Forget 128/95/495 travel at 7:00 AM or 5:00 PM, but also remember that that's the reality of what happens to your prospect every day. Be extremely sensitive to that type of reality and assess what it is that you could do personally that would reduce the stress, improve the time efficiency and impact the value that you and your products provide to your buying decision maker?

I'm running a two-day business planning session during the first week of January for 16 people. The real work is the technical stuff related to the prep, the interviews, and the facilitation of the meeting. I happily volunteered (and was immediately asked to do so) to take care of all of the logistics, hotel and travel reservations, food and everything else freeing up the senior team to focus on closing their year.

Buckle Up

This is crunch time; it's as simple as that!. This weekend and the next five days require 100 hours of work, waking up before the kids tomorrow and Sunday and getting in at 7:00 AM and not 8:30 all next week.
Do everything you already know how to do and make sure that you're physically and mentally on the top of your game because when it's over, it's over!
Just a few quick thoughts for this morning.

Now, get back to work, and have a great day today being remarkable!


Please stay connected! jack@derbymanagement.com


Advisor, Derby Management, experts in-
-Sales & Marketing Productivity
-Business and Strategic Planning
WHAT WE DO AT DERBY MANAGEMENT