It all comes down to this..
The 13 week sales cycle ends a day like today
Final Tufts management presentations today and next Wednesday
Close the deals today and next week successfully, and everyone goes home with high marks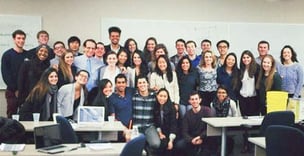 When I first started teaching Marketing at Tufts 10 years ago, I knew that I had to do something different because there was no way that I would hold the attention of 30 bright Millennials, who were not majoring in marketing, past one class, let alone 13. So, I took best practices that I had learned from Professor Jung-Hoon Chun at MIT, and, at that time, my 10 years of teaching business planning and marketing in his mechanical engineering course, where I continue to lecture. Those best practices provide...
Semester-long, team-based complex projects
Molding a framework of business and marketing plans around highly engineered products
Active engagement of his students
As a result, everything that I teach in Marketing at Tufts is structured around six team-based complex marketing projects from real companies who have asked us to develop marketing plans, product launches and campaigns using the best practices of inbound and outbound marketing tactics. There's nothing easy about this course, which requires a ton of work outside the classroom working as teams and working directly with company management. The students are graded 50% for their participation in the classroom while the other 50% is defined by the one hour long final presentations to company management along with the volumes of research material that is handed over this afternoon. Of that 50% that I grade, 50% again is graded by the company management in terms of meeting the objectives that they defined four months ago.
A couple of helpful presentation tools created from this semester's students:
Just as in our quota management for this quarter and for the end of the year just 19 days away, these are the times, after all of the training and the months of research, nurturing and the prep, that it all comes down final presentations and waiting for the order...or, in this case, the grade.
STILL LOOKING FOR TUFTS SALES PROJECTS FOR THE SPRING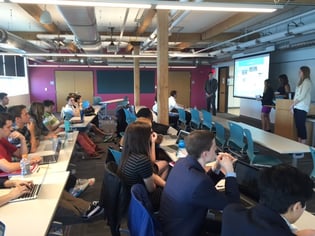 With my announcement in last week's blog for projects for my current Marketing course and my new Sales course at Tufts in January, we had a number of excellent projects that we have signed up, and I am still looking for additional projects especially for Sales projects. This new course, "The Art & Science of Sales" dives deep into technology, sales processes, tool creation like Value Propositions, and metrics based on the Hubspot CRM and CMS platforms
If you're interested in submitting a sales project for this spring, just email me at jack@derbymanagement, and I will send out the instructions on what's expected, the logistics and the dates for the spring semester for both the sales and the marketing courses.
Remember back to when you were in college...
...and you were wondering how you were going to put into use that course in sociology or whatever you were studying at the time? At Tufts, the experience we provide for our marketing and sales students through these projects is unique since they learn strategy, they debate tactics, and then get their hands dirty by actually diving deep into the crankcase oil by being asked to provide detailed recommendations and actual execution activities. That's the value received on the student's side of the table.
For your company's side of the table, the value received is...
extraordinary hard work coupled with a very high work ethic on the part of these students
deep market and competitor research
fresh and innovative selling tactics from process funnel management to social selling
and, interestingly enough...experience. Every team has at least one and often time more students who already have had experience through prior marketing, BDR and sales internships.
Good Selling for your final presentations...and getting the grade!
Derby Management...for 25 years
-Sales & Marketing Productivity Experts
-Business & Strategy Planning Specialists
-Senior Management Coaches for CEOs & VPs

Box 171322, Boston, MA 02117
Jack's Cell: 617-504-4222
jack@derbymanagement.com