Derby Sales Management Boot Camp
Our next program is Sunday June 16th through to Tuesday, June 18th 2019, get in contact with Jack for further info!

Our most recent program was October 1-3 at the MIT Endicott House:
Our Last 3 Programs were Sold Out 30 days ahead.
Want to discuss? Just email Jack @ jack@derbymanagement.com

This spring, we begin our June 16th program at 5:00PM with a networking reception, dinner and the review of a pre-assigned case study. We ended mid-afternoon on Tuesday June 18th, just in time for our attendees to be able to use some of their newly learned skills to both impact the short term of Q2 and also incorporate in their longer term budgeting and planning processes for 2019.
At this event, we had a select group of 30 senior business and sales management leaders including executive instructors from HubSpot and Brainshark in a unique and highly interactive program where everyone walked away with innovative strategies, greatly improved tactics and an arsenal of ideas focused on dramatically ramping up thier sales and marketing effectiveness.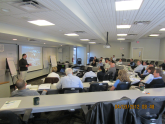 In today's highly competitive marketplace, successfully growing your sales revenues can be extremely challenging, sometimes frustrating and, of course, very rewarding. The purpose of our Sales & Marketing Management Optimization Boot Camps is very simple:
We train you to dramatically improve sales performance of
your sales team. Improvements in Sales productivity
have averaged 20% after the first year


CLICK HERE

for a video presentation summary
This is the essence of Sales & Marketing Optimization, and through our intensive programs, we've developed sales and marketing models, strategies, detailed processes and enabling tactics that ensure that you can successfully scale your business.
These programs have been specifically designed for Presidents, sales leaders at the district, regional and national levels, heads of marketing and heads of business development who are directly responsible for managing their sales and marketing plans.
Here's where we can directly make an impact since we've sat in the chairs-just like you-as CEOs, heads of sales and heads of marketing of growth companies in a wide variety of industries. We've successfully coached hundreds of managers through good times and the not-so-good times, and, as such, we've earned the reputation of having become experts in sales and marketing optimization.
Our job is to coach everyone to dramatically improve their ability to...
Improve their sales productivity by 30%-50%
aggressively grow revenues and margins in 2019.
forecast with 90% plus accuracy.
accelerate closing rates and reduce sales cycles.
successfully hire, compensate and retain "A" level teams
develop and implement integrated sales processes and planning tools.
fully embrace today's sales and marketing optimization technologies.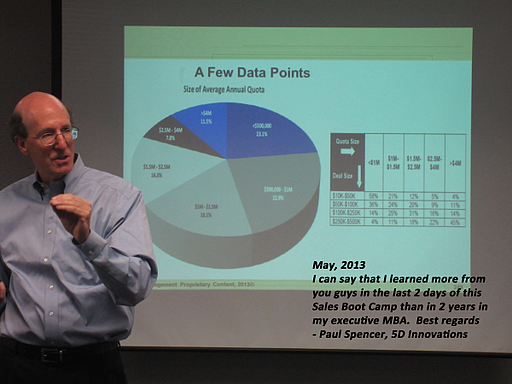 We chose the term "Boot Camp" since this program is hands-on, highly interactive and totally focused on improving your sales and sales management skills, adding to your sales arsenal of tactical weapons, impacting your mental training and developing your preparation and stamina for what lies ahead in 2017. f
The format includes extensive course materials, pre-attendance assignments, sales-specific case studies, guest speakers in addition to numerous opportunities for you to get direct answers to your specific sales and marketing challenges with constructive feedback from our instructors, invited guest speakers and your fellow attendees.
The Agenda
Here's an outline of what was covered:
Sunday Afternoon, June 16th
Arrival and check in at the MIT Endicott House (easy 30 minutes from Boston)
5:00 Reception and networking
6:00 Working dinner
Harvard Business School case study assignment & team presentations
Monday, June 17th
7:30-8:30 Breakfast. Individual meetings
Understanding Sales Optimization
Jack's Law of 3,000
Defining sales strategies, tactics and objectives
Sales Process strategy, funnel math and tactics
Creating usable sales plans: National, Territory and Key Accounts


1:00-5:30
George's sales margin improvement tactics
Pricing to Value Tactics
Hiring and retaining Hunters, Farmers & Trackers
Creating Business Experts, Coaches & Enablers
Defining creative compensation models
A Harvard Business School case study group discussion

6:30 Reception & Dinner
Best Practices discussions over wine and dessert
Tuesday, June 18th
7:30-8:00 Breakfast: Individual meetings
Building sales processes, trigger points and integrated tools
Online tools: Brainshark, Salesforce.com, HubSpot
Speakers from Brainshark, HubSpot and Salesforce
Hiring (and keeping) the very best salespeople.
1:00-3:00ish

The Price (includes everything: lodging, meals, drinks, materials)
$2,600
Next Steps: Just Want to Sign Up for our May program

Please emaill Jack at jack@derbymanagement.com to talk about and register.
Next Steps: Questions

Just email Jack at jack@derbymanagement.com, and he will set up a quick conference call with you to answer any questions you might have.
Why Boot Camps ? (The History)
Several years ago, we decided to begin our Boot Camp Programs beginning with our Entrepreneurship Boot Camp one snowy weekend at our conference center at Stratton Mountain in southern Vermont. It was a big hit, and from that we launched a series of boot camps quickly expanding to our annual series of typically holding one Entrepreneurship Boot Camp and two Sales Management Boot Camps each year under the Derby Management name in either Boston or Vermont.
We also have partnered with the City of Providence, Rhode Island and under the direction of the Providence Chamber of Commerce, we hold one Entrepreneurship Boot Camp and one Sales Management Boot Camp within their annual Launchpad Essential Skills Program.
Similarly, we provide the content to High Tech Rochester in upstate New York and provide three to four boot camp programs each year for their The Entrepreneur's Network program. We just completed one of our best ever programs there earlier this year!
Most recently, we have extended these programs to partner with The Associated Industries of Massachusetts, the Commonwealth's leading business association focused on growth and economic development for business in Massachusetts.

During 2009, 2010 2011,and again in 2014, we've collaborated with The Center of Business Development Corporation of New Brunswick, Canada who bring 25 of their entrepreneurs to Boston once or twice a year where we host an Entrepreneurship and Sales Effectiveness Program during which we provide intensive content and bring in a variety of entrepreneurs and venture capitalists.
We also provide both Entrepreneur and Sales Management Boot Camps for Quebec City under the guidance of Quebec International.
Each class is approximately 20 to 25 attendees and lasts two and a half days. We like to believe that they have been very successful and the comments that we have received from our attendees have been extremely positive.
If you are interested in attending any of these programs, just contact us by calling the Boston office at 617-292-7101 or emailing Jack directly at jack@derbymanagement.com
Thanks for a great couple of days. I definitely took away at least a few key initiatives. The setting at Stratton was perfect - the food, the lodging, the meeting space. I also enjoyed the company and the participation of the other sales execs. I thought that the content layout over the two days was well balanced. Thanks again for a very practical, enjoyable and educational experience, and one that I plan to continue to learn from.
Jack Gaziano, Senior Vice President, Silicon Valley Bank
Ken and I wanted to thank you both very much for the incredible experience you both provided over that past three days of the TEN program. It was inspiring, insightful and confirmed that our efforts are moving in the right direction.
Michael J. Margiotta, CEO, eHealth Global Technologies, LLC
"It was an outstanding program." ; "A great mix of attendees."; "Jack himself was very credible, very engaged in the business, and tied together real life, examples & stories."; "I would rate it very highly and would recommend other senior sales leaders at MFS t go through the program."; "It was time very, very well spent."
Tom Jessee, Senior Vice President of Sales, MFS
Just a short note to say thank you so much giving me the opportunity to participate in your sales optimization boot camp earlier this week. This was by far the most high value two-day session I have experienced in many years. The energy, passion and experience you brought to the session was contagious and motivating and enables open minds that certainly helped me take away some very key learnings.
Jack Zimmerman, VP Sales & Marketing, Global Data
It was great catching up with you this week during the Sales Effectiveness Boot Camp. I truly enjoyed the program and have already started implementing many of the tools and techniques learned during the training. I found great value in the discussion we had about building Sales Plans and Sales Process. I look forward to communicating Sales Effectiveness with my Sales Leadership Team later this month.
Jeff Duchemin, Director, US Sales, Becton Dickinson Medical - Ophthalmic Systems