What is the Sales Management Boot Camp?
We significantly increase your Sales & Marketing Productivity as a manager !
Beginning Sunday late afternoon with a team-based, highly interactive Harvard Business School case study and ending Tuesday afternoon, everyone leaves our Sales Management Boot Camps excited, totally exhausted and highly charged to meet the demands of the next quarter and the balance of the year ahead.

...and we also give attendees the following FREE services !
A pre-meeting general website assessment with a focus on the clarity of two critical tools we will develop during the Camp: (1) Command of the Message and (2) Value Propositions.

A group conference call once a month for six months following the Camp.
You are guaranteed to leave there with new ideas, new strategies, lots of tactics and exciting new productivity tools that you can put together immediatly giving you both short and mid-term productivity impact.
Learn More by Clicking Below:
Is the Boot Camp for You?
Our last Sales Boot Camp was held earlier this year with a select group of approximately 30 senior business and sales leaders. Our Drill sergeants included Jack, George and John from our firm plus senior executives from leading sales and marketing productivity tech companies.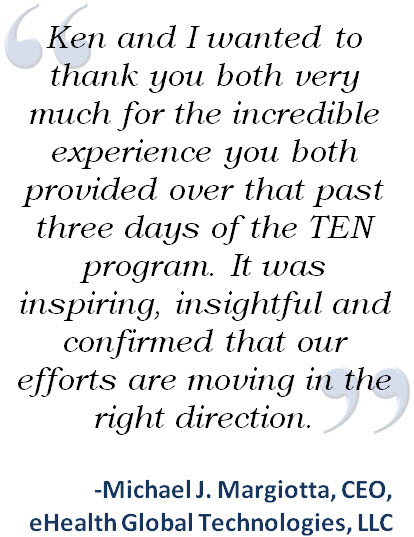 This program is specifically designed for Presidents, sales leaders at the district, regional and national levels, heads of marketing and heads of business development who are directly responsible for managing their sales and marketing plans.
The Derby Management team members, and all of our speakers, have all sat in the chairs-just like you-as CEOs, heads of sales and heads of marketing of both startups and middle market companies in a wide variety of industries. We've successfully coached hundreds and hundreds of managers through good and the not-so-good times, and, as such, we've earned the reputation of having become experts in sales and marketing optimization.
Our job during our Boot Camps is to coach you in how to dramatically improve your ability to...
...increase sales productivity by 20+% in one year.
...aggressively grow your margins.
...forecast with 95%+ accuracy.
...accelerate your closing rates.
...successfully hire and retain A-level people.
...implement integrated processes & tools.
...embrace today's sales technologies.
Pricing
The Price (includes everything from lodging to meals, drinks, and all materials)
$2,600 paid prior to the Camp. No cancellations, but you may reschedule
This price also includes monthly telephone coaching for 6 months after Camp!
In prep for the Camp, we will provide you with an assessment of your website relative to a number of the Sales Tools we will be discussiing in detail at Camp

- Clarity of your 'Command of the Message'
- Clarity of your 'Value Propositions'
- General observations
Since many attendees have questions at this time, just email Jack at jack@derbymanagement.com, and he will set up a short telcon to answer your questions.
Just Want to Sign Up?
-We find that most people have questions of some sort, so we would encourage you to email Jack directly at jack@derbymanagement.com , or just call him at his cell at 617-504-4222. He can take you through the registration process quickly.