An Epic Game!
There's nothing more that I could add to the accolades and the volumes of words, statistics and analyses that have already been written...except to add one word... GRIT !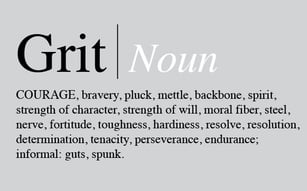 In the two management meetings that I attended yesterday-both of which focused on the lack of discipline and performance in various parts of the companies-the multiple phrases of "blocking & tackling", and "drive" and "2nd half game plans" bounced heatedly around both of the conference rooms.
I'm a student, a player, and a coach of everything in sales and marketing processes, tools, game plans and metrics. When I was a lot younger, I studied and learned about processes and skills on the manufacturing floors and in the engineering labs where I was trained by tough coaches. I then took those same concepts to the worlds of Sales and Marketing. Today, the excitement in both Sales and in Marketing is being experienced everywhere in those professions. From sales cubicles to the street, today's sales discussions have moved to the science, the game plans, the technology tools and the analytics of Sales and Marketing.

Having said that, that work all has to do with skills, and all skills can be taught, trained for, rehearsed and tested.


GRIT is what's built into one's DNA.
It's one's personal discipline to win against all odds. It's the difference between winning and losing, between just getting to or breaking through quota, or between just being politely thanked or applauded with a standing ovation. The very good news is that although it's difficult to train oneself in the practice of grit and mental discipline, it's easy to read about life lessons on toughness and grit from other leaders. Maybe a homework assignment for this weekend's reading.
That's what GRIT is about!
The question to think about on this superb day of Patriots Celebration is what lessons can we take away from Sunday night, from the leadership of Brady-Belichick-Kraft, and from the entire Patriots team to bring into our own world of winning more sales?
For those of you who are into the strategy of the game, whether that's in football, in business, or in sales, an interesting perspective from today's Wall Street Journal on "the biggest choke in history"
Practice Grit Selling Today...

SOME IDEAS ON HOW TO accelerate YOUR 2017 SALES PLANNING PROCESS:
...or just, even more simply, give us a call at anytime to talk through your 2017 sales objectives. I and some of my partners have a wicked commute every evening (the cost of living on the beach), so we welcome the time just to talk confidentially at the end of a day. Send an email, and we'll schedule you in. Simple as that. No cost, it's confidential, and provides you with an opportunity for a sounding board.