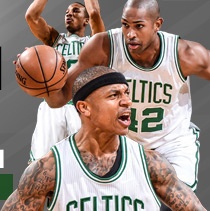 A fantastic Celtics game Monday night ! Another win tonight !
Superb coaching, and...
Superior game planning, and...
Flawless ball handling and execution, and...
Highly efficient teamwork, and...
of course, a bit of Irish luck
Similar to consistently winning in basketball, team performance in Sales, and especially in the delicate balance of applying art and science to the world of sales management, comes down to finding, training and retaining the best players and coaching them through uniform team playbooks and formal processes and instilling a culture of creating customer value.
The comparison between winning sports teams and winning sales teams works very well, with one significant difference. What is dramatically different today in the profession of Sales, and therefore in sales management, is the velocity of change in adopting new technologies, integrating highly formal processes and using innovative hiring and retention techniques to attract and develop the best players. In most of our companies we're not winning the right yet to be selected for the #1 draft choices.
What has also changed dramatically is the focus not on relationship selling, not on solution selling, but on the new era of placing all of our sales focus on creating customer value and not just selling our products and services.
As a result, we're just now kicking off our next edition of our highly successful Sales Management Boot Camp to be held on October 1st-3rd. We'd be very excited to talk to you about coming on the team and attending this unique and highly effective event. At this time in our development of these programs over the past ten plus years, hundreds of sales managers, presidents and CEOs have experienced dramatic increase in the productivity of their sales teams.
We always sell out, which is why we're starting the marketing now in mid-May before the heat of summer vacations interrupts the sales process, and you can lock this into your calendar just in time for impacting Q4 results and also for your 2018 planning.
Structure: two and a half days of intensive participation in case studies, hands-on process and tools development, the detailing of best practices and the unique ability to share experiences with other sales management professionals. That experience then continues during November and December with scheduled team and individual conference calls and ends in early January with an opportunity to present your 2018 sales plans to your fellow Campers.
Expertise: Lectures, exercises and classroom collaboration from Team Derby plus the heads of Sales and CEOs from leading sales enablement and productivity companies.
Location: Superb overnight and study accommodations, excellent food and service, plus mental stimulation in the quiet of the woods at the MIT Endicott House just 20 miles south of Boston.
Team: Limited to 25 managers from a wide variety of industries-CEOs, Presidents, and heads of Sales at national and regional levels
Value: Very simply, the value we bring is that by attending and working with you at the Camp and during the next two months in a series of advisory conference calls, we know that we can improve the productivity of your sales by 25% in 2018. Nothing's easy, and the work is tough, but the results are always impressive !
Want to learn more?
Just click on the presentation below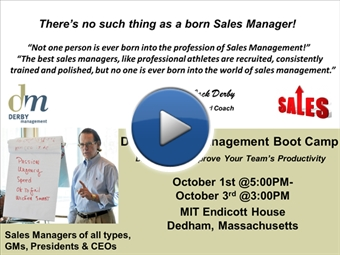 ...and reach out to Jack at jack@derbymanagement.com.
Jack or one of the Team Derby partners will answer questions and take you through the process of signing up.
Good Selling Today !
See you in October !
We guarantee a unique experience !