13 Weeks Later @ Tufts
I start looking for new sales & marketing projects on 10/01 and 5/1

The syllabus w/projects are sent out on 12/26 and 07/05

6 marketing & 4 sales projects for 2 very oversold courses

1 week later, the newbies need to tell me which project and why

Bios are circulated to me and teams of 5-6 are formed

Reading and research begins 30-45 days before class begins

13 weeks later, complete plans are presented to management
On the last day of the course in the last 15 minutes, I talk about, 'Jack's 3 Rules'
Rule # 1: Connections are Forever
Make all the connections that you possibly can. Cherish them. Treat each of them with extraordinary care. Store them, use them and communicate to them all of the time in LinkedIn, Twitter, FB and Insta. Never let those connections go stale and unused!

This week, I met with David K. in my office at Tufts. Haven't seen David, a brilliant product/market genius, president-level guy in 15 years since we sold EarCheck, a wonderful startup, founded by Sandra Kimball, where I was CEO and Dave was a critical part of our success. David's daughter is now at Tufts, and he found me when I made some recent noise at Tufts...which I often do, so he stopped by to chat.

Dave and I played the "whatever happened to..." game for 15 minutes, and he mentioned a critical person on our EarCheck team. While Dave was sitting there, I looked up that person on LI, and we talked about how important our success was due to that person.

Two hours later, I was talking to one of my seniors about a potential job. She mentioned the company, which seemed very familiar, and then I realized that the familiarity was because I had just pinged the company two hours before when David and I were reminiscing about "whatever happened to?". My student now has an interview next week with that long lost person, who is the president of that company.
In life, in business, in love and in family, cherish your connections!
Rule # 2: Learning is Consistently Continuous

Each semester-now 20 years at MIT and 10 at Tufts-I realize just how much I don't know.
At the end of every semester, I tell my students that everything which had been learned over the prior 13 weeks, is on that last day, obsolete.

Whether you're 21 or 33 (the age now of my oldest Tufts alums) or 43 or 53, to be in business at any level, I believe that you must consistently push yourself to learn more, to study more, and to test yourself all of the time.

I read a book a week, and in the summer often two. I'm fascinated by the intersection of technology in Healthcare and in Sales and Marketing, and I like nothing more than exploring new apps and platforms. My Summer Beach Bag is filling up quickly, and below you will find two new MUST READS if you want to push your own world of Sales & Marketing.
Summer reading
Dan Tyre, Author, Inbound Organization & Friend of Tufts
April 24th, the Inbound Organization, officially launched! This is the much-awaited book that my close friend and fellow Hubspot Disciple, Dan Tyre, wrote with Todd Hockenberry. This is a MUST READ designed to help educate any business owner on the importance of the Inbound Sales & Marketing philosophy.
Diagnoses how inbound you are today and what you need to do to transition.
Defines the WHY of your business
Builds an M-SPOT: one page Mission, Strategy, Programs, Omissions, Targets
Builds an actual Inbound Operating System
Practices customer-focused decision making and ties it to execution
Defines customer personas
Provides six Inbound case studies
Jamie Turner, Author, Speaker, CEO & Friend of Tufts.
On April 5th, we had the privilege of having another close friend of mine and noted author, Jamie Turner, deliver the annual Shapiro Lecture as part of our $100K New Ventures Competition at Tufts. Speaking on the subject of "Why Your Brain Buys Stuff It Doesn't Need" Jamie was educational. fun, engaging, and, as usual, creatively provocative. Great speaker!
If you're a professional in marketing, or just a novice trying to figure it all out, and you want to kick off your marketing or sale day with a slap to the forehead saying "I didn't know that", you need, at the very least, to sign on to his blog at 60SecondMarketer.com.
Rule #3: Break Some Rules
Whether you're an entrepreneur co-founding a company or not, you can always be entrepreneurial in your careers, in your corporate job, and, of course, in your startup...but you will need to break a few rules...just not too many.
And, speaking of certification & Tufts- "Content in Context"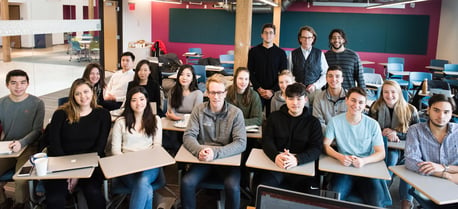 It's that time of year again, when I go out to our greater blog, LI, FB and Twitter communities and begin the process of soliciting complex, semester-long Marketing projects for next semester. When I began teaching at MIT 20 years ago, and then at Tufts 10 years ago, I quickly realized that the only way I was going to provide any meaningful content...and keep my students awake...was to wrap that content within the context of real companies who needed new or updated marketing plans. Our clients for these courses range from tiny startups often looking for their first marketing plans to large public corporations who are launching new products or are looking for a different perspective.
We are looking for six Marketing and four Sales projects for this fall's semester
The project might be for an entire company or for a specific product
Companies range from startup companies that have launched to public corporations
Projects typically are to create a full Marketing or a Sales plan
Each project will be assigned a student team of four to five students
At least one or two of each team will have solid prior marketing or sales experience
Projects and the syllabus are sent to the students on July 5th
There is homework to do during the summer
The deadline on applications submitted to me is June 15th
If you are interested, please just email or text me (617-504-4222), and I will send you the instructions.
Have a great day Selling today!

Coach & Advisor to Derby Management
Director, Entrepreneurial Studies, Tufts University
Cummings Family Professor of Entrepreneurship