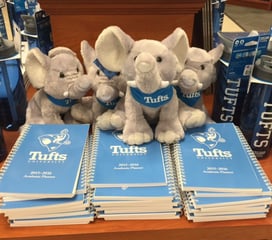 As you know, I have the privilege of being a professor at Tufts where, I've taught a course in Marketing for nine years, and this semester, kicked off "The Art & Science of Sales".
After nine years, I am still as excited...and just as nervous...as I was at the beginning of the very first semester. Quite frankly, the only reason I got the Tufts call in early August nine years ago was that "the other guy" had just announced that he could no longer teach, and I was that call of desperation with no one in sight for opening day three weeks away.
It's one of my core beliefs that in life, jobs and happiness, "it's all about connections". Since I had been lecturing in business planning and marketing at MIT for ten years in a Management in Engineering course in MechE, I came up as a potential for Tufts, and then it was all about the connections, a bit of luck & of course, that level of desperation. That call was one of the best things that ever happened to me in terms of recharging my energy, challenging me intellectually and most importantly, allowing me to make an impact on the careers of exceptional young men and women.
I continue to teach Marketing, and this spring kicked off a new course, "The Art & Science of Sales".
Smaller student population of 20 rather than the 30 in the Marketing course

50% undergrads, 50% grads in "Management in Engineering"

The structure of working on project plans is the same as In my Marketing course where the content is taught around real company projects that are developed by five person student teams with the primary deliverable being fully developed Marketing or Sales plans for the company or a specific product launch.
Sales Plans, Processes, Technologies, Tools & Math
What has been most interesting for me in teaching this Sales course, which is largely built on a framework of technologies from our friends at Hubspot, who have been instrumental in helping me create the course framework, has been the fact that on numbers of days this semester, we have left the classroom walls totally covered in math exercises, formulas, and equations.
Reason # 1 is that this is the way I've been thinking about Sales for 20 years ever since I came out of running Manufacturing and Engineering departments long before I became a salesguy and gained the experience of running both Sales organizations and complete companies.
Reason # 2 is that I know now from literally thousands of discussions with sales reps of every size, experience level and market category, that it's a much more positive and helpful coaching discussion with a sales rep if I can talk about "stepped conversion rates" and CRM-embedded "tool usage" rather than tell that rep... "you just need to work longer and harder". I know that that type of "coaching" never worked for me back-in-the-day other than creating fear which sometimes led me to polish my resume. It's our experience that creating fear and unrelenting pressure as a sales productivity improvement tactic never works today.
The 2016 Math on the lack of Sales Productivity...
43% of all B2B "qualified and trained" B2B sales reps miss their agreed-on quota
25.5% of forecast opportunities end in "No Decision"
61% of new salespeople take at least 7 months to initially ramp up to quota
It takes between 18-24 months to get a new rep to "full ramp" productivity.
Despite billions invested in sales performance improvement, productivity deteriorated an average of 8% over the last three years.
70% of the buying decision is made by the buying team before any discussion with any vendor.
Although 79% of the salesreps felt that their first meeting with a senior decision maker went "very well", when we interviewed those same senior decision makers, only 18% said that same meeting met their expectations, plus only 7% said that they would schedule a follow on meeting as a result.
Ladies & Gentlemen, we have met the enemy, and that enemy is us!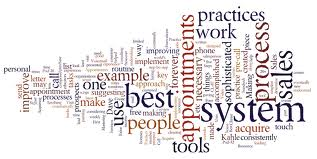 Too often, we lack systems, processes, rep-friendly tools and integrated technologies that comfortably tie everything together. Therefore, we often lack real accountability. We too often make it much too hard and take too much time away from our reps who should be out there selling, not administrating.
As we approach the end of our first quarter, it's time to take a fresh look at 2017. If you're 110% over in Q1 and your pipeline is flowing over, then congratulate everyone, reward the team with something small and unexpected...and then get back everyone back to work.


If that's not the case, now is the time for improved processes in "Activity Planning"
Not one of us can simply achieve "Results"
...unless, there are detailed 90-180-360 day "Objectives", and...
...unless, there are 30-60-90 day "Activity Plans"
Sound overly simplistic? It is ! Which is why it always works !

Take a look at our new video on Creating 30-60-90 Day Activity Plans, and give us a call if you're interested in holding one of our unique Whiteboarding Sessions to discover how you can improve the productivity of your team by 20%.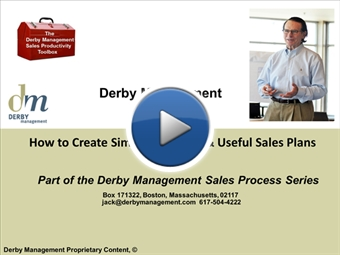 -A step-by-step process
-The right tools at the right time
-Examples
-Training and Certification
-Discipline and Responsibility
-Not that complicated or unusual
-Just takes your leadership
...and some outside help
http://www.brainshark.com/derbymanagement/vu?pi=zF0zOSibvzFFz0


Good Selling in these final two weeks of the quarter !


Then 2 things to think about once the Q is ended...


Promotion for our October 1st-3rd Sales Management Boot Camp will launch next month. This unique Boston-based event for 20-25 sales leaders always sells out! Questions?...just email us or call if you want to talk it through.

If you want to participate as one of the six companies for a Tufts Sales or a Marketing project for this fall, we will start accepting project ideas now. All project drafts go out to the students on July 5th along with the syllabus with two months of pre-work and research required over the summer. This spring semester, we had 29 applications and selected 9. For the fall, I'm looking for 6 Marketing and 6 Sales projects. Email me at jack@derbymanagement.com, and we can quickly set up a time to talk through the process.