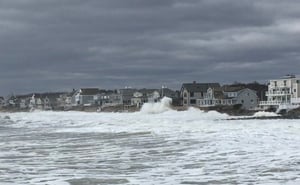 Maybe it's just the calendar as we race into March especially today sandwiched between the weekend nor'easter and tomorrow's nor'easter. Hard to believe that I was out raking in the NH yard in the sun on Sunday morning. Harder to believe that I was raking seaweed out of the grass after these waves went way over the seawall and closed the roads.

Maybe it was the bright 50 degree, sunny days just two weeks ago. "In-Like-a-Lion" March lives up to its reputation this week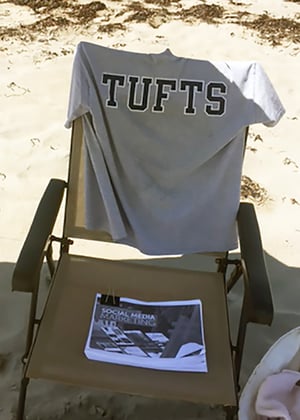 All I know is that just three months from now, Memorial Day marks the beginning of the summer, and the summer means the beach, and the beach means mega-reading and mega-writing.
Nothing better for me, my psyche, my health and my curiosity than taking my overloaded beach bag out early on a Saturday morning and opening up a book about sales or marketing and taking out my writing tablet.
Each summer, I also use the time on the beach to rewrite our 115 page Writing the Winning Business Plan and our 50 page Writing the Winning Marketing Plan. If you want copies of either of these, just click on below. Actually, if you do read these now, and you have ideas or comments, just let me know, and we will make sure that we will add those comments if we can and give you attribution, as you will note in the front of the Writing the Winning Business Plan book
I don't sleep much, and the only way I can get to sleep is to read fiction, so with a book a week, my Kindle app on my iPad is always, always very well used. In the summer, given beach glare, hard copies work best for reading and note taking, and the first entries dropped in the beach bag this weekend...
The recent HBR edition on Augmented Reality that has been sitting on the nightstand way too long
Mike Kunkle's, "Sales Coaching Excellence"
Steve Forth's, "Making Pricing a Strategic Priority in 2018"
I need a re-read of Mark Roberge's excellent

The Sales Acceleration Formula

,
When I review the Top 25 Best Sales Books, I have the following noting in

red

my personal best:
Personally, for me, the very best in this list are the ones I've highlighted in red above. All are good, some, like, Cracking the Sales Management Code, are just excellent and some, like SPIN Selling, are so outdated that they are laughable in today's buyer's world which is all about transparency and the selling of real value.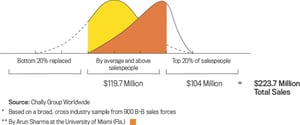 BTW, on last week's blog titled Gold-Silver-Bronze which asked the question where should you spend your time as a manager in order to improve your impact of meeting your overall team quota, I received lots of great advice and comments. My own personal experience is that, during the quarter, when every minute counts, I always focus on my Gold Medal Winners, since, I know that, with some added focus and added motivation, they can always push for more. That's during the quarter. When I'm taking a longer term view of two or three quarters, my focus is to work with my Gold players to figure out how they and I can help specific Silver team members. That's my personal best use of my time, and it helps my Gold members develop their management skills for longer term succession planning.

Let's get through the storms this week, and start thinking about reading on the beach !
Good Selling !

Coach & Advisor to Derby Management
Director, Entrepreneurial Studies, Tufts University
Cummings Professor of Entrepreneurship