"I'm not old enough yet to play golf"
At the tender young age of whatever I am, I keep saying that "I'm not old enough yet to play golf". That somewhat "too cute" comment, especially at the age of whatever I am, is also just a bit too sarcastic even for me, so I've dropped that phrase in response to the frequent question, "Do you want to join us for golf this weekend?"
The fact of the matter is that I don't know how to play golf. Never learned. Never had a mentor. Never had a coach. Never had buddies who played. Probably was much too focused on work and since I grew up in business as a manufacturing and engineering guy, I never understand the social value of "customer golf" until way past being president of companies a couple of times. And, by that time, I convinced myself that trying to learn to play golf at whatever age I am was simply... "too late".
I have a lot of golfing buddies, who over the years have supplied me with their own best hints on how to think about learning to play the game...
Eighteen holes of match play will teach you more about your foe than 18 years of dealing with him or her across a desk. -- Grantland Rice
They say golf is like life, but don't believe them. Golf is more complicated than that.
-Gardner Dickinson
If a lot of people gripped a knife and fork as poorly as they do a golf club, they'd starve to death. -Sam Snead
I don't say my golf game is bad, but if I grew tomatoes they'd come up sliced.
- Arnold Palmer
I'm hitting the woods just great; but having a terrible time getting out of them!
- Buddy Hackett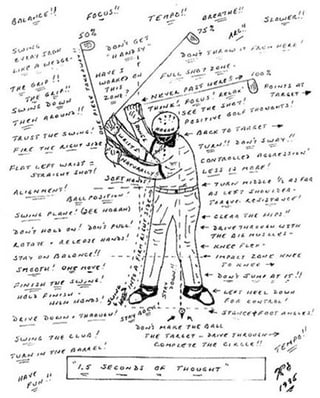 Of course, my wife, who knows me best, has the best reason as to why I've failed to take on the game, which is captured in her phrase... "Jack doesn't do humble well."
My problem with learning to play golf is that (1) my wife is correct, and I don't do humble very well.
And (2), I know that's it's going to take a ton of time and lots of complex overlapping rules that I need to try to remember all at the same time...and then after all of that time learning both the game and those arcane rules, I will most likely come back and fail on Item #1 anyway.
6. Any ardent golfer would play Mount Everest if somebody would put a flag stick on top.
- Pete Dye
7. The only time my prayers are never answered is playing golf.
- Billy Graham

8. Golf and sex are the only things you can enjoy without being good at either of them.
-Jimmy DeMaret
9. May thy ball lie in green pastures, and not in still waters.
- Ben Hogan
10. Golf is a game invented by the same people who think music comes out of a bagpipe.
- Lee Trevino


But, in the spirit of continuous learning, which I constantly preach to my Tufts and MIT students, and since the point of this blog is that each of us needs to challenge ourselves to learn and stretch ourselves more and more assuming we want to continue to win playing in the game of sales (or is that golf?), then it's time to set a few new objectives for the balance of the year.
As a result, I decided that this was the summer to take on two new objectives. After all, why not?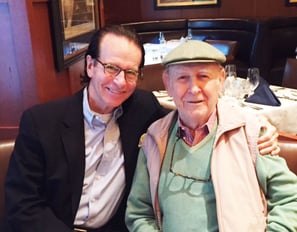 The first is to learn, or at least try to learn, to play golf. I've given this objective a measurement, which is to at least walk around the golf course two times by Labor Day. I'm purposefully staying away from the phrase..."play two rounds of golf" and substituting the verb "walk around the course". So, we'll see what happens.
To that end, I had breakfast on Tuesday with Bill Tarlow, the founder of FootJoy, so that I could learn the vocabulary and, most importantly, understand what to wear from one of the most stylish golfers in the business.
The other objective is the Boston Marathon. Not sure what this all entails, but right now, it's looking a lot easier than learning to play golf. Inspired by two of my most special Tufts alums, I laid out a plan to get from here to there...and hopefully from Hopkington to Boston.
Planning is the key here.
Setting objectives, both long and short term, and following those objectives up with detailed plans is the key to success in playing the game of sales...except selling isn't a game, it's life, and success today comes only to those who are up for the discipline of learning new skills, studying harder and experimenting by applying those new ideas to the profession. For me, these experiments should be interesting, and at the very least they will provide me with more discipline in learning new skills, in time management and in focusing myself.
...and finally, the last hint I just learned from my my long time friend and Zen Master, Ed Bourdreau...
the No. 1 Golf rule you MUST follow is to take the car keys and cell phone out of your golf bag before you throw it into the creek.

Much less anxiety producing is that this is the most important planning quarter of the year to tune up both your sales and marketing plans before you drop into the doldrums of the summer. Any objective setting, detailed sales planning and process training that you do right now, will have huge impact in September through December. Any substantive changes you make in September will have little impact in December, and may, in fact, slow down your results.
IT's time to TUNE UP YOUR OWN BUSINESS & MARKETING PLANS
Also, since you're now deep into Q2, you just may want to put aside a day during the next two weeks to refine and update your 2016 Business Plan, or at least your 2016 Sales and Marketing Plans. To get you started, click here and receive a downloaded copy of our Writing the Winning Business Plan, 2016 edition.
Another opportunity for preparing now for Q4 is to do the same type of "relook" at the basics of your 2016 Marketing Plan after reviewing our ebook on "How to Write a Marketing Plan". This consists of mostly solid basics and tactical structure stuff...which just might be the perfect thing to do right now before you dive too deeply into Q3.
...and, of course, if you just want to talk through some of where you are right now and use us as a confidential sounding board...or do a short Whiteboarding Session with any of us, just email me, and we will work out a convenient schedule.
Good Selling!

Derby Management...for 25 years
-Sales & Marketing Productivity Experts
-Business & Strategy Planning Specialists
-Senior Management Coaches for CEOs & VPs

Box 171322, Boston, MA 02117
Jack's Cell: 617-504-4222