I've probably listened to, coached or presented in 10-20,000 presentations

.
Early volunteering and chairing the MIT Enterprise Forum, was my first love!
Being involved in the leadership of 4 or 5 other entrepreneurship associations
20 years of teaching at MIT in early stage business planning
14 years of teaching at Tufts in entrepreneurial marketing and sales
Director of the Tufts Entrepreneurship Center & Cummings Professor of entrepreneurship
9 of my own startups-a few very good, some just ok, and some "what was I thinking?"
A venture guy in three early stage venture firms and chairing Common Angels.
10,000 plus seems to be a good guess over 30 years; it's probably a lot more.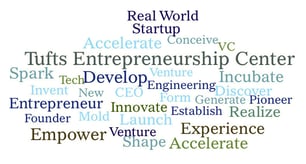 A couple of years ago, when we took over what has now been rebranded as the Tufts Entrepreneurship Center, we knew we could most importantly take entrepreneurship to the next level at this extraordinary University with 10 of the highest ranking research schools in the country. We're really urgent, so we quickly moved ahead breaking more than a few rules along the way always focused on creating the absolute best student experience!
We actively engaged with well-known Tufts alum entrepreneurs who wanted to coach.
We increased the numbers of competitions.
We created multiple Founder's Workshops with Tufts alum entrepreneurs as speakers.
We created 16 drop-in Jumbo Cafe's run by our professors and Tufts alums.
We created the Tufts Legends of Innovation & Entrepreneurship Award-now given 3 times.
We documented our experience in a first-ever Impact Report released in 2019.
And so it was last Friday that I found myself facilitating a packed audience ready to pitch 20 presentations:
Ten 10 minute PPT presentations to three highly experienced entrepreneurs for

the Montle Prize

Ten 5 minute no-slide presentations to three highly experienced entrepreneurs for the Ideas Prize
The judges were

Peter Cla

y on our Board and in Launchpad Ventures, the very well-known Zam

from Deloitte, plus

two highly ranked professors and deeply experienced entrepreneurs

,

Beth McCarthy

and

Tina

Weber. A powerful team who have themselves been involved in more than 10,000 presentations!
Just an extraordinary 10 hour day!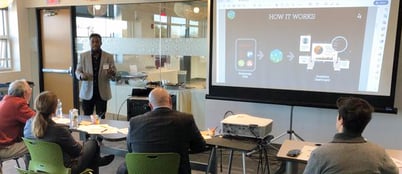 As part of the day, in between the presentations, the presenters and the judges began to assemble lists of "Best Practices" from this street-level, very real, in-the-weeds experience with first-and second-time entrepreneurs ranging from freshmen to PhD graduate students.
I thought that it might be helpful just to list those Best Practices here in no priority order:
State clearly what the business is early in the presentation.
Define the need/problem and immediately link that to a persona or multiple personas.
Detail the personas in human terms; clearly define between users and buyers if different.
Specifically define what you think the go-to-market model will be; if you're not sure, say that.
Detail clear value propositions/persona defining the business drivers plus a few metrics
Clearly define in your products/services, "Here's what matters the most?"
Answer "What's the moat?" What's protective in IP or design, or use, or partnerships?
Be clear: Where are you today? Where are you going to be in 6 & 12 & 18 months?
Get experienced early-stage coaching for your financials from expert entrepreneurs.
Know your audience, always ask for connections, be human and be professional.
I'm sure that there are another 50 hints and tips, but after 10,000 plus presentations, I thought that these were very important Best Practice takeaways from an extraordinary day!
You can always share your own Best Practices with our other blog posts readers just by sending me your own comments or perhaps you have a favorite coach or writer you'd like to mention. Then, I'll republish those in a future post in a couple of weeks.


Speaking of Tufts...

Speaking of Tufts, it's that time of year, when I'm actively looking for projects for my spring marketing class which starts in mid-January.
If you're interested in a team of five or six brilliant juniors and seniors to work with you to complete a well-researched marketing plan complete with primary strategies and detailed tactics and recommendations, just connect with me at jack.derby@tufts.edu, and I will send you instructions. The companies typically range from startups to divisions of large companies and cover every possible market. We work on six companies each semester, and I currently have five open slots, which will now be quickly filled.
Have a great day just being entrepreneurial!
Please stay connected! jack@derbymanagement.com


Advisor, Derby Management, experts in-
-Sales & Marketing Productivity
-Business and Strategic Planning
WHAT WE DO AT DERBY MANAGEMENT
Director, TEC-Tufts Entrepreneurship Center
Cummings Family Chair Professor of Entrepreneurship
Spark-Incubate-Accelerate@Tufts
Come to our Events
2019 $100K New Ventures
Cell: 617-504-4222 jack.derby@tufts.edu