Every day, as part of my routine, before or after a sunrise run on the NH beach or on the VT dirt road, I take a look at LI and FB birthdays of the people I'm connected with.
it takes just 10 minutes
I write a quick personalized note "always good to have birthdays"
I then add in "enjoy & "just remember to be always young!"
Fun, quick, human and a perfect example of my mantra on life and work being all about the connections!"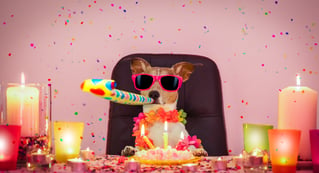 Yesterday was my birthday, and with more than 4 million minutes under my belt, I'm all about the future, being busier and more excited than ever at work, at Tufts and in my investing. Very excited this morning just having arrived in a sunny VT to begin exploring the next chapter. I've been blessed with great health following the plumbing solutions given to me by my heart and cancer surgeons a few years ago and now just charging ahead.
Always celebrating life and positive since the alternative never works, very entrepreneurish and always optimistic about selling and closing deals on an end-of-the-week-Friday.
What I now know about life and work.
I love what I do
My attitude is that if you do not love what you do in your work, simply quit, walk away and find something that you love! I realize that in the reality of life, mortgages and kids, that statement sounds terribly unrealistic, but the flip side of that is that nothing will get better by itself. Add to that that it's the best job market in decades for jobs. Part of this results from "The Great Resignation", which is very real, and part of it results from the success of the overall growth curve in business. Inflation, product shortages, increasing energy costs and The Putin War aside, business is booming in general, and the job market continues to be white hot so if there was ever a time to explore, it's right now.


I increasingly want to learn more
Perhaps other than AI, chip technology and digital-first healthcare advances, for me right now there's nothing as exciting as the rapid advances I'm experiencing in the science, the tools and the analytics of Sales and of Marketing technology. I set aside a couple of hours each weekend just to explore new tech solutions and, more importantly, become more fluent and flexible in the techstack we already own. As everyone knows, I'm a huge fan and user of Hubspot, and right now at the firm, we are pushing to become 100% fluent on the platform by the end of April.

As a professor at Tufts, I know that each semester, I consistently learn through my research and especially from my marketing and sales students just as much as I teach! If you've been thinking of teaching at some point, now is the time to jump in and do it. My own experience began at MIT (where I still teach every fall 21 years later) with a request from an ME professor to bring business components to his class of seniors and graduate students. A few years later, merely through connections, I received a similar call to teach at Tufts. If you have questions, just connect any time.


I have balance
At a point, I made a decision that I no longer wanted to pretend to have work/life balance and live what was expected of me. At that point, I made a very specific decision as to what I wanted in that balance that made me not only productive in who and what I am but also fulfilled and happy. With that decision, very simply after that, everything fell into place with no more excuses. As one of the most practical and successful investors I ever met taught me... "You can't live life or work in any business by walking on eggshells".



Have a great day selling today...and enjoy the weekend!



AN ANYTIME SALES SOUNDING BOARD IN '22

If at any time this year, you have a need for a confidential sounding board for your 2022 business or sales planning process, just connect with me! Text or email me, and I'll quickly set up a call. I'm a very good listener, and we can get deep into tactics if you want. Obviously, no cost for a call or two; just an opportunity to listen intently and make a few recommendations based on decades of experience.