In the rhythm of the seasons, we're right now at the peak of leaf-peeping time here in New England. This afternoon, I'm headed to my little (population 697) town of Bondville in Vermont along with hundreds of buses from Iowa, Indiana and everywhere else just to get a glimpse of fall color.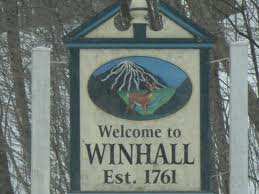 Long ago, I learned from 'The Boys on the Bench' down at the Winhall General Store that the month of October is known as "the money month" by the locals around all of the resort towns in Vermont.
A good example of the quirkiness of Vermonters (me being a 7th generation Vermonter and a perfect example of quirky) is the fact that the Winhall General store is directly across the street from the Bondville Post office. Vermont calls my town "Winhall", while the federal government calls it "Bondville". Only in Vermont!
25% of the state's tourist income happens in these four weeks
Tourists from Iowa and Japan and everywhere in between come to see the colors
Winter homeowners return for the first time since March with long lists of repairs to be done
Shoppers by the thousands mob the upscale outlet stores down the road a piece in Manchester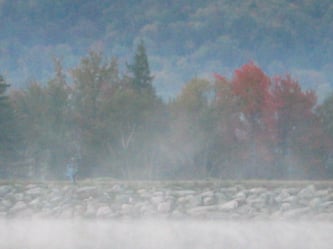 The rhythm of the seasons happens every year with the turning of the calendar from September to October, and the very good news is that every Vermont shop owner, every landscaper, and every handyman understands that this is an exceptionally critical time of year for their businesses. What follows this season of leaf-peeping, which pretty much ends in two weeks, is the bleakness of "the Taint Season", (as in 'taint summa', 'taint winta') marked by cold winds, the beginnings of the deep frost and not much else ...except, of course, moose and deer hunting.
As sales and business managers, this period of October is also that time of year when we're totally stretched focusing on way too much travel and a myriad of execution tactics all focused on "making the number" while, at the same time, we're also being asked to provide business and sales plans for 2017. All very difficult to balance and extremely tough to do since we're still 56 days out from finishing 2016.
But...it is what it is.
No one can significantly change the dates for fall foliage since it's always going to occur between September and October depending on whether you live in Burlington, Vermont or Providence, Rhode Island. Similarly, no one can slow down the coming of the sales year of 2017. Our bosses and their board members are always going to expect to see preliminary drafts and final business plans, complete with detailed sales and marketing plans, somewhere between mid-November and mid-January.
In order to make it easier for you, each summer, we update our free 100 page book, "Writing the Winning Business Plan", which you can download at our Solution Center, where you can find a number of other tools to make your 2017 planning work easier. Additionally, when you have questions, just email us, and we will quickly set up a time to talk and be a free and confidential sounding board.


in order to STAY ON TOP OF YOUR GAME in 2017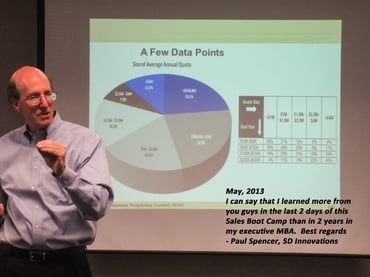 For the past 15 years or so, we've been running these twice-a-year Sales Management Boot Camps focused on just that specific persona: managers responsible for revenue, be they CEOs, Presidents, VPs or Regional Managers of companies. When we were first starting these camps, I noticed that Tom Jessee, the highly respected and very successful head of sales at MFS had signed up.

Since I was pretty impressed that he was coming, I decided to give him a call and ask, quite simply, why, and his response was very direct in that he felt that in order to stay on top of his game, he needed to explore new ideas and step outside his own industry.

Over the years of now hundreds of attendees, Tom became very representative of our average attendee from a wide variety of industries and sizes of companies, all of whom had one critical mission: "I need to continue to rapidly grow sales, and since I know that the profession of buying and selling has now changed forever, I need to stay on top of my game".

Tom is no different than any professional athlete! Neither are you nor I. We all need to train, to stay on top of our game, and learn new skills especially in sales and in marketing today!

Take a look below, click on the presentation, email, text, messenger or call me, and I'll take you through the details quickly and share some of our experiences...


You should think about attending our upcoming November:
500+ graduates
CEO's, Presidents and Heads of Sales-national or regional
Tons of very positive testimonials
For more information, just click on below...