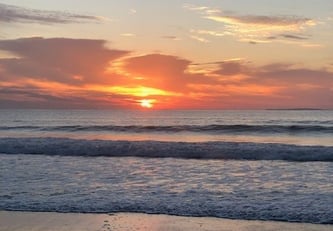 Whenever I can, I start the day with a run on the NH beach. This is a picture from Wednesday morning. Yea, I know! Some of you right now are asking...
"Does NH really have a beach?"
And the answer is 14 miles of pristine ocean and sand with some of the best surfing in NE. This is where I and my brothers grew up as kids, and when our mother wanted to get rid of us, she would tell us to go out and find beach glass and bring her back a present. Decades later, I still look for beach glass.
I have three jobs as a management consultant, a professor, and a venture capital investor, and, very simply...I love what I do! Plus, I have the luxury of working in a variety of fun and exciting locations in Boston, at Tufts, on the NH beach, and in the VT hills . Each week in class or in a coaching call, I tell my students:
Do not worry about identifying a career yet, since your ideas will change in your 20's.
Focus on getting an exciting job that you love and pays you well.
A job where you wake up at 5:00 and think "Can't wait to get to work today?"
A job that challenges you in a company that will train you for your hard work.
With numbers of "careers" behind me, this is exactly how I think about myself, and exactly why I love what I do! In my work at our consulting firm where we focus on business strategy and ramping up sales and marketing productivity, that work ties perfectly into how I teach at Tufts in my courses in Marketing and in the Science of Sales.
I'm Searching for Marketing Projects right now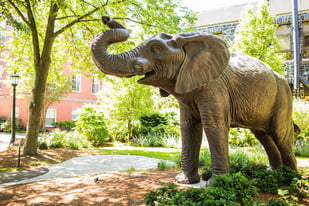 Hard to believe that this semester is 50% complete with this week's mid-term presentations. I teach in a rhythm of "Content in Context", where I provide hands-on tactical content about Marketing within the context of six marketing projects brought to us from real companies. Some of those companies are customers of Derby Management, some come from repeat companies, and some come as a result of this blog and requests like today's.
Below is a broad outline of what we are looking for.
Complexity in scope and depth
Robust projects given 13 weeks with 6 bright juniors and seniors.
B2B or B2C.
We've done toys, robotics, software, food, cars and 39 other industries
We've done $0 to $400m revenue in locations from the U.S. to Norway
Any scope from emerging entrepreneurs to decades-old corporations
Must be established products/services, not brainstorming concepts
Our focus is on providing detailed complete marketing plans from strategy to recommendations for implementable tactics along with expense plans in addition to primary and secondary research if desired. The plans can encompass a range from a complete marketing plan for the company or a specific product. We love doing research, and we recognize the value of having 21-25-year-olds provide their perspective, but we cannot just do research without formulating the data, providing recommendations and building a plan around that work. We've learned that just doing research does not complete the intent of the course which is to provide real-life introductions to the business of business.



The timing is...
Connect with me anytime from today up to December 1st when I make the final decisions
The spring syllabus and the 6 projects are sent out on December 26th
Students have 5 days to decide and explain their decisions
Students are required to be Hubspot Inbound Certified before the course begins
The semester begins January 19th; students will have connected before
If you are interested, just connect with me, and I will send you a detailed outline. A very exciting, very productive and very engaging process!


Have a great day selling today!
Everything we're seeing in our 2022 planning with our customers defines an excellent year ahead...even given the shortages of talent and materials. Don't let the media wear you done with their constant pictures of tankers lined up in the harbor. Focus on what you can solve and be entrepreneurial in your work-arounds!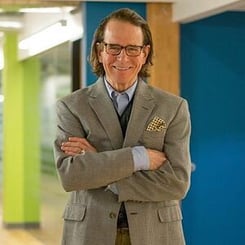 AN ANYTIME SOUNDING BOARD
If at any time, you have a need for a confidential sounding board for your 2022 planning process, just connect with me at any time. Text or email me, and I'll quickly set up a call. I'm a very good listener, and we can get deep into tactics if you want. Obviously, no cost for a call or two; just an opportunity to listen intently and make a few recommendations based on decades of experience.
Derby Entrepreneurship Center@Tufts.