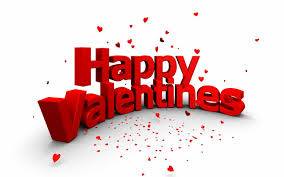 With Valentine's Day tomorrow, does it ever cause you to ask, "Who?", or maybe more fitting in the world of Sales, "What do you really love?"
With all of the flowering and overly gushing marketing reminders this week about Valentine's Day, perhaps it might be a fitting time to take a look at your work, your career and your company to ask a simple question, "What do I really love about my job?"
Question #1: Is what you do a "job?"
Do you look at your sales or your marketing career as a series of "jobs"? Is this process of getting paid for work that you do a "job", or is it a "career", and, most importantly, is it something you love doing? Sales jobs are where you go to work. Sales careers are a series of steps up a ladder with increasing responsibilities and opportunities. How do you view this particular job or career that you are living today? And, most importantly, is the work that you do relevant for you personally? Not to get too Zen about this, but... "Is this job you?"
Question #2: "Do you love what you do?"
For me, but then according to my associates, I'm more than a little whacked out, I love what I do. Can't wait to get at it every day and face another series of complex questions and opportunities...along with the standard putting-one-foot-in-front-of-the-other hard work of running a business.
A few questions for you to think about this Valentines' Weekend...
Are you passionate about what you do?
Does it fulfill you and want you to stretch even more?
Do you push yourself to learn and study about your profession?
Do you think about your work as what you love to do?
Question #3: If you weren't doing this, what would you love to do?
When I started in business working as a semiconductor buyer at Honeywell, I found in one of my vendors, a guy who became a close friend. Much older than me, he owned a large sales rep agency that handled a large number of product lines bought by other buyers in my electronics group. To me, he was the epitome of what a successful salesman should be-focused, bright, hard-working and just...a very comfortable guy to talk to. After work one day he told me about his dream, which was that by the time he was 50, he would have sold his business and begun traveling and seeing the country with his wife. He actually achieved that dream at the age of 48, and for the next 40 years toured the world splitting his time living between Mexico and the coast of NH, both tax-friendly places in which to live.
He had a long term plan filled with lots of details to make sure he never ran out of money. He loved what he did as a sales rep, but he was always more intently focused on his longer term love and end game.
Question #4: Do you have a 2014 plan for loving what you do?
It's almost Valentine's Day. This week is all about cards, roses, chocolates and that special dinner with champagne. A great job of marketing btw on the part of Hallmark, but actually the concept of celebrating Valentine's Day originated with Geoffrey Chaucer (thank you BC) back in the Middle Ages. While most of us guys have spent this week scouring the now-almost-empty card racks in the local CVS and searching for that last bunch of overpriced roses, it might be time to take an hour this weekend and ask yourself...
Do I love this company, my bosses, and what I sell?

At this age what would I love to be doing in 10 years?
Do I have a formal plan to get there?
What skills do I need to learn to get me there faster?
In the words of Alan Lakein, "failing to plan is planning to fail", and it applies to how we plan our sales activities for this quarter, how we plan the success of our team this year and how we plan our future for what we would love to do five or ten years from now.
Happy Valentine's Day and discovering who and what you love...

No better way to stretch and explore your own sales management skills than from speakers such as Greg Flynn, the President of Brainsharkand Mike Volpe, the SVP of Marketing from HubSpot who will be part of our upcoming Sales Management Boot Camp. To learn more...
Click on the icon below for an outline of what takes place.
You can also click HERE for a more detailed agenda
Or just email me at jack@derbymanagement.com, for a 10 minute call