Back at it this AM
I've missed blogging for the past two Fridays, but since I have a pretty good understanding of my audience, I also clearly knew that I would be at the bottom of the list of interests compared to...
family and friends
presents and pets
sun and snow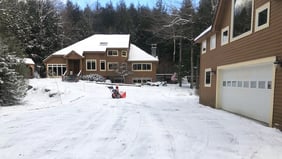 So, I hibernated in Vermont for two weeks working on a big project. My voicemail said I was out of the country without cell coverage when in fact I was in Vermont either jogging down the dirt road in the wicked morning cold or shoveling snow in in the afternoons while hunkered down in my office in between.
Of course, I took customer and a few hot prospect calls.
Of course, I still talked to students about jobs.
Of course, I still got up at 4:30, said hello to Mr. Keurig and asked Alexa to tune on Bloomberg News before I walked into the office in the studio.
But then I focused on work, loving the focused time "away" which for me, mostly meant days of uninterrupted time thinking, planning and figuring out a difficult project. Sure, I took time out for opening presents left under my picture-perfect Home Depot tree while managing to burn through a half-cord of Vermont wood. But with the virus raging, this project calling and the calendar days clicking by approaching January 1st, I did find myself thinking about making a New Year's resolution or two that had any real meaning for me. In fact, in my own planning work with customers regarding strategy or sales for 2022, I usually begin the process by asking... "Tell me what success looks like in December?"
During project breaks over the last two weeks, staring into my 28' wide monitor, I took time out each day to answer that question for myself. As usual, I made that simple question way too complex by spending ancillary time focusing on business objectives, my teaching goals at Tufts, and the work to be done this year for the new Derby Entrepreneurship Center@Tufts, but consistently gnawing at me was the elusive answer to the question of "what does success look like for me personally in December?"
And then it came in the simple words: Focus on the basics in '22!
Focus on being happy!...whatever that means. For me it's simply my work, for others it's going to be family or money or travel or whatever. Don't apologize! Don't overthink! Don't walk on eggshells as to what others will think! Just focus on what will honestly make you happy in '22!
Simplify & Declutter! Business, and especially Sales is actually very simple. I have something of value, and I'd like to sell it to you for a fair price in a manner where you will build trust in me and my products because they add value to you and your business such that you will buy more from me. Pretty simple, but then we make it wicked complex with thousands of consultants who've never sold anything before but do like to sell shallow books and invent new terms

and provide hundreds of technology platforms just to sell stuff. I'm a techy nerd, but do we really need 500+ different CRM platforms?

Push forward! In any "normal" January when we kick off a business year, we have long lists of sales and marketing strategies to be implemented and tactics and activity plans to be rolled out and executed. No difference in '22, where our prediction is that this will be a very positive year for business even with inflation. Having said that. as business and sales leaders, we must actually push forward and move past the pain and the distractions of the virus and the vitriol of politics. Tough stuff, I know, but focusing and pushing on the basics always works!
Have a great day selling today...and shoveling this afternoon!
I'm off to a 9:00 ACG virtual networking event with one of my Tufts alums! Love getting my young men and women jobs in Sales and Marketing!
AN ANYTIME SOUNDING BOARD in '22
If at any time this year, you have a need for a confidential sounding board for your 2022 business or sales planning process, just connect with me! Text or email me, and I'll quickly set up a call. I'm a very good listener, and we can get deep into tactics if you want. Obviously, no cost for a call or two; just an opportunity to listen intently and make a few recommendations based on decades of experience.
Derby Entrepreneurship Center@Tufts.