All about the team, a strong sales culture...and having fun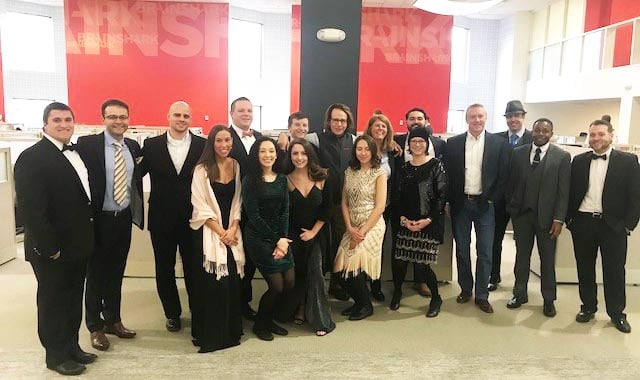 I was sitting in a board meeting at Brainshark yesterday and listening to Colleen Honan, the highly experienced and talented Chief Sales Officer, talk about activity planning. Colleen has all of the background, the years, and the depth of experience to truly be qualified as the head of sales of a leading tech company. She's disciplined in her approach, fluent in new processes and technology and unrelenting in her approach to sales coaching, sales planning, sales training while having fun at the same time.

So when I walked in to the headquarters in Waltham at 7:30 yesterday, I was not surprised to see the salespeople already at work planning out their activities for the day and getting in early morning calls. I was however, a bit taken back by the fact that one of the leading teams of 20 or so, was dressed in tuxes and gowns. And then I learned that Colleen had been talking to them about the Gatsby generation, which inspired this very hard working team of classic millennials to dress the part for the day. So very cool...and engaging...and being part cementing the team!
Brainshark is having a very strong year as a result of strong leadership, dynamic teams everywhere in the company and a relentless drive to deliver real business value to its customers. ...and then there are The Tried & True Sales Basics that are driven by Colleen and have become the core values inoculated into the DNA of everyone in Sales and in Marketing.


Tried & True Sales Basics that always work !!!
Plan to Make Plan !
In exactly the same format, using exactly the same template excel sheets, every sales person, manager, director and vice president provides monthly updates for their quarterly forecasts identifying in great detail their top prospects, their pipeline analysis, a list of other metrics and, most importantly, their detailed activity listings for 30 and 60 days out.
I'm a strategy guy, and what I've discovered from 30 years and hundreds and hundreds of strategy sessions is that strategy without tactics, and tactics without activities, is totally worthless and a waste of time!
Certification is a Must !
One of the leading Sales Enablement Gurus in the U.S. is Jim Ninivaggi, originally from the sales experts at Sirius Decisions, and now Chief Readiness Officer at Brainshark. Under Jim's passionate leadership, both for the salespeople at Brainshark and for their customers, everyone becomes certified. No questions! No explanations as to why not! No excuses! Everyone is certified and then recertified! Just like surgeons, airplane pilots, auto mechanics and many other industry professionals. There is simply no excuse for salespeople not being certified in the company's processes, its specific tools and customized technologies and in the company's 10 most critical sales metrics.
At Tufts in my Marketing course, and in my Science of Sales course, in order to get a grade in either course, every student needs to be fully certified in Hubspot CRM and in Hubspot Inbound. 60% of these gifted women and men get certified before the course begins making everything go not only faster, but with much more impact for our customer projects. No certification? Pretty basic: no grade!

Hiring only "A" Players

What Colleen, Jim, Greg Flynn, the Brainshark CEO, and everyone else on the senior team practice religiously is the mantra of "We only hire "A" players". Sounds kinda' basic, doesn't it? And, that's the point here. Only "A" players, who undergo a rigorous process of interviews, testing and predictive analysis are hired since no one is ever allowed to use the phrase of "good-enough" when hiring anyone into the firm.
And remember another sales basic that I learned long ago, "A" players, only hire "A" players. "B" players, hire B players"

Q2 is

The Most Critical Quarter of the Year

This is the quarter where all of the detailed tactical and activity planning (what we call "30-60-90s", and others call "QBRs"-"Quarterly Business Reviews") are put on paper and presented not just to the boss, but most importantly to the peer salespeople for critiquing and the implementation of the best tactics and tools that are being used by the rest of the team. Unless this planning and re-planning occurs in April, May and early June, then it's going to be one very cold summa'

So, for this first weekend in a month where it doesn't look like it's going to snow, take just 30 minutes and think about how you can take a few of your own Tried & True Sales Basics and cement them into the religion of your Q2 planning.

And, speaking of certification & Tufts- "Content in Context"

It's that time of year again, when I go out to our greater blog, LI, FB and Twitter communities and begin the process of soliciting complex, semester-long Marketing projects for next semester. When I began teaching at MIT 20 years ago, and then at Tufts 10 years ago, I quickly realized that the only way I was going to provide any meaningful content...and keep my students awake...was to wrap that content within the context of real companies who needed new or updated marketing plans. Our clients for these courses range from tiny startups often looking for their first marketing plans to large public corporations who are launching new products or are looking for a different perspective.

We are looking for six to ten complex marketing projects for this fall's semester
Might be for a company or a product
Projects typically are to create a full marketing or a marketing and sales plan
Each project will be assigned a student team of four to five students
At least one of two of the team will have solid prior marketing experience
Projects and the syllabus are sent to the students on July 5th
There is homework to do during the summer
The deadline on applications submitted to me is June 15th

If you are interested, please just email or text me (6175044222), and I will send you the instructions.

Have a great day Selling today!

Coach & Advisor to Derby Management
Director, Entrepreneurial Studies, Tufts University
Cummings Family Professor of Entrepreneurship