Coming off the Thanksgiving break after one too many slices of pumpkin pie, I'm feeling pretty good about sales specifically and business overall right now. A couple of solid weeks of selling left in the year. Everyone at the firm is maxed out with work. January's outlook appears to be reasonably ok. Teaching at Tufts and MIT are in exam modes. The stock market is humming, and the economy in general seems to be more positive...even though the fundamentals (little things like debt, GDP growth and jobs) aren't that much better.

So, here I am, thinking that I'm finally holding all the right cards, and yet I'm wondering if everyone else wants to play chess instead?
My question comes down to personal and corporate relevancy, and it begs well thought out answers to the strategic questions of...
Are our products and services still what our customers need?
Do our people have the skills that our customers want?
Does our messaging still resonate with new prospects?
What's the real value we provide our customers?
Do I and my team have the right stuff to stay "in the zone"?
The only question that I have already asked and answered is...

"Do I still have the passion for what I do?"

, and that answer is affirmatively,

"yes!"

.
It's still a good question for all of us to ask and answer before jumping headlong into 2014.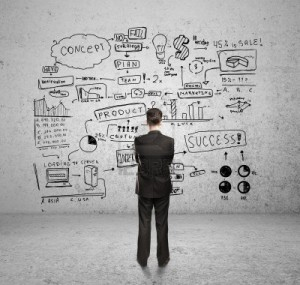 My expectation is that you've also started to think about these and a myriad of other strategic questions as you've been polishing your 2014 business and sales plans. Thinking about these questions during an hour here, a long commute there, and another plane ride somewhere typically creates more questions than answers, but raising these questions right now is exactly what you, as a manager, should be doing for your company at this time of year.
That ability to balance this blend of being an excellent manager of details and tactics at the very same time that you're thinking through the longer term strategic issues defines one of the most important aspects of being a true leader...
at least in my book
.
A framework...
10 planning steps for 2014...
Continue to collect these strategic questions during this month
Write them down
Ask the rest of management to do the same
Take the entire list & prioritize it as a team of equals
Take the team offsite in January, discuss & further prioritize
Concentrate

only

on 5 items that could move the 2014 needle
Give assignments to sub-teams to do more research and analysis
Bring everyone back together in mid-February to

develop the answers

Create total consensus- this is the very difficult part
Lock down the process and then set up 3 review meetings during the year.
...a simple framework, and not really that difficult to do as long as everyone is focused, realizes that this work will require extra time outside "the day job", and that at the end point, everyone must be in total agreement.
...just another item to think about as you continue to push yourself through the next 14 selling days.
If you want more than a framework for your detailed planning process in January, click HERE to get our 100+ page ebook on Writing the Winning Business Plan
Good Planning, Good Selling !!!

Want to learn about value propositions, pricing, sales and marketing processes, technology tools and how to hire perfectly every time, join 30 other managers at...
The 2014 Sales Management Boot Camp: April 6th-8th


Click HERE for information about our next Sales Management Boot Camp.
Perfectly timed for new sales management skills for 2014
Focused on you and what it takes to enable your team
Process, tools, tactics, and technology in a Sales 2.0 world
Only 30 managers are accepted
Always sold out so register early!