To a boring fault, I am all about planning...
business plans, sales plans & marketing plans with our customers
planning out semester-by-semester my teaching at Tufts and MIT
planning through the seasons of snowboarding in VT and surfing on the NH beach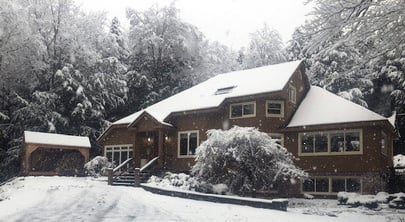 ...but it's always hard to plan around Mother Nature, especially in Vermont, where the carefully chosen date of April 16th was perfectly selected to coincide with the finished construction and the delivery of the new furniture. Being VT, of course, it's snowed last night and is continuing to snow like crazy this early AM.

The Bottom Line: Plans Change!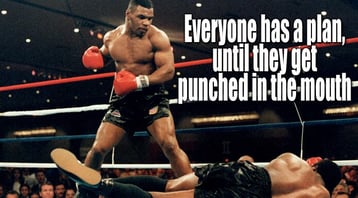 When Mike Tyson was asked by a reporter whether he was worried about Evander Holyfield and his fight plan he answered: "Everyone has a plan until they get punched in the mouth.". What Tyson said is similar to the old saying "no plan survives first contact with the enemy". But does this mean that there is no need to plan? Absolutely not!
Evander Holyfield was no doubt much smarter and more strategic than Tyson! Tyson was a brawler, awesome at powerfully fighting his way out of a corner and landing devastating blows. Could Holyfield have planned to have half of his ear bitten off? Tyson was unpredictable by nature, but Holyfield won despite the massive 15/2 odds against him because he not only planned better, but he adapted quicker.

A question for all of us in business and especially in the now-rapidly changing world of Sales and Marketing is how we adapt our own business and sales plans when we get knocked down...since we all get knocked down at some time.
By comparison I'll easily survive the discomfort today of figuring out how to re-plan through the unexpected snow, a planned finance call at 8:30, a board meeting at 9:00 and our weekly team call at 11 for our new startup (yes, one more time into the fray), and a furniture delivery sometime today.
TUFTS STUFF -LOOKING FOR NEW PROJECTS FOR THE FALL
With the last of the content classes this past Wednesday and final company presentations in two weeks and with planning top of mind this AM, it brings me to the realization that it's that time of year again when I begin the search for new Marketing and new Sales projects for the fall semester.
I teach in a structure of "content in context".
Our lecturers and I provide the technical content of Marketing and Sales over 13 weeks.
The context is the delivery of Marketing or Sales plans to our project companies.
Students work in teams of four to six juniors, seniors and grad students/project team.
Teams are assigned to real companies with specific objectives for full plans.
We chose 6-7 projects for the Marketing Course; 4 for the Science of Sales Course.
I and our TAs (assigned to each project) grade 60%; management grades 40%.
Decisions are made on June 15th; syllabus and project plans go out on July 5th.
Research and Hubspot certifications in Inbound and in CRM happen over the summer.
The results have been exceptional!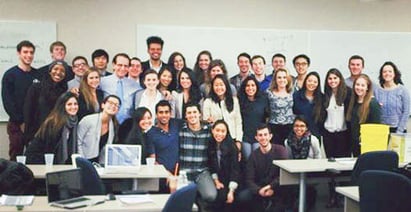 We've received outstanding comments from our 180 project clients so far. Each semester we raise the bar higher and push ourselves to be more innovative especially with our techstack and process tools. Our guest speakers range from world famous lecturers and close friends like Jamie Turner and David Meerman Scott to a core group of now highly experienced heads of sales and marketing who are alums from this course.
And hundreds and hundreds of comments from alums that this course and this method of teaching changed their lives and their thoughts about a career, and they are now in Sales and Marketing management positions in companies that range from startups to Google, Facebook, Hubspot, Amazon, Microsoft, Oracle and TikTok with a wide variety of companies and markets in between.
These results have little to do with me...I'm just the planning guy and orchestra leader who pulls things together and provides a bit of content. The real success has to do with the structure of the course, the complexity of the company projects and the drive and fresh look of the students.
If you're interested, just connect with me, and I'll send you instructions, and we can set up a time to call.
Gotta go shovel now before my call at 8:30!

Have a great day selling...and planning...today!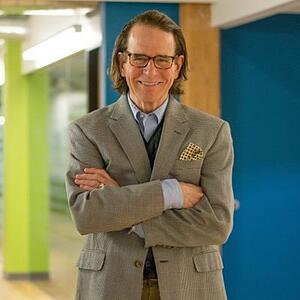 A SOUNDING BOARD FOR YOUR Q2 PLANS
If at any time, you have a need for a confidential sounding board for Sales or Marketing, just connect with me at any time. www.derbymanagement.com
Text or email me, and I'll quickly set up a call. I'm a pretty good listener, and we can get deep into tactics if you want.
Obviously, no cost for a call or two; just an opportunity to listen intently and make a few recommendations based on decades of experience.