Being a disciple of the high priests of David Meerman Scott, the guys at Hubspot and the gurus of Jamie Turner, Mike Troiano, Dan Tyre and Mike Volpe over the past decade, I'm an Inbound Marketing kind of guy!.
I've been reading and living the Bible of Inbound for about 10 years.
We bring the fundamental of process, tools, tech and math to all of our clients
I teach the stuff in my Entrepreneurial Marketing and in my Science of Sales classes.
In fact, all of my students must be Hubspot certified in order to get a grade.
I love and live the ROI metrics of enablement, efficiency, sales and marketing productivity.
So, it was very interesting and coincidental last week for me to learn the following from one of my favorite marketing gurus and close friend, Jamie Turner, about what I consider to be "Good Old Email Marketing"!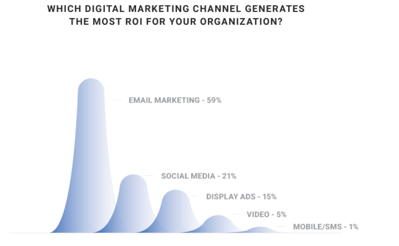 Out of the digital marketing channels—email marketing, social media, display ads, video, and mobile/SMS, can you guess which one rakes in more money? It's email marketing; it accounts for 59% in ROI, followed by social media at 21%.

If you don't see any return with your email campaigns, ask yourself these questions: Do I have enough subscribers in my list? Is my email mobile-friendly? Do I use attention-grabbing subject lines and pre-header text? Do I have actionable CTA button? If all your answers to these questions are no, you may want to double-check your existing email marketing strategy. Remember, successful marketing campaigns are built on a strong strategy.
Like you, I probably receive well over 250 emails a day not including those that get spammed out. Most get deleted, others take less than 30 seconds to read and the important ones-from clients and students get dealt with right then. I'm of the "Tribe of Read Once-Deal With-File" regarding my emails, and it works pretty well, so this data from Jamie caught my interest enough to blog about it this morning with now only nine Real Days left in the quarter. My attitude this morning is "Old School, New School"?, I really don't care about the tactic, so I'll take "Any School" as long as it gets me and my team to our numbers whether those are sales at Derby Management or funding and education opportunities at Tufts for our students.
One day after Jamie's blog last week, at Tufts, during one of our final exam presentations for one of our six semester-long marketing projects for a large medical device engineering and manufacturing company, I was equally surprised and very interested in the research that was presented and the recommendations that were made that although the company's use of social media was "somewhat important" for branding, the ROI was much higher and much more immediate from old school trade shows. I guess that I knew this in general about trade shows, but the students went on to define in detailed research that the ROI of cost over MQL lead quantity over number of days was much more effective with old school trade shows than social media.
Always impressed that I learn from my students...hopefully, the feeling is mutual!
Having said that, personally I'm sticking with a heavy balance focusing on Inbound rather than Outbound, but with now only 9 Real Selling Days left in the year, I'm not sure that I really care. Whatever it takes to bring in the deals including my being on Acela this morning making F2F Old School calls.
9 Real Selling Days

Left: Let's make 'em count!.

Have a great day selling something today!

Please stay connected!

Jack Derby, Director, TEC-Tufts Entrepreneurship Center
Cummings Family Chair Professor of Entrepreneurship
Spark-Incubate-Accelerate@Tufts
Come to our Events
Cell: 617-504-4222 jack.derby@tufts.edu

Advisor, Derby Management, experts in-
-Sales & Marketing Productivity
-Business and Strategic Planning
WHAT WE DO AT DERBY MANAGEMENT