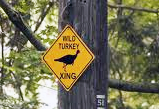 Last Sunday, driving from early morning mass and on my way to my personal weekly reward, which is searching out sales at my favorite store, Home Depot, I noticed 20 feet ahead two turkeys feeding on late fall garden scraps on the left side of the road. As I slowed down, I also noticed this small yellow sign noting "turkeys crossing" over to the right. And then, as if on cue, 20ish turkeys hopped up on the stone wall, walked across the road right in front of my car and joined the others in the garden. Which, of course, got me to thinking about Sales...
Turkeys & Pricing...
The law of supply and demand peaks turkey prices at this time of year...unless, of course, someone overproduces as they did a couple of years ago and prices plummet.
90% of Pepperidge Farms' stuffing products are sold during the next six weeks, and my guess is that there's no negotiating as to the price of a bag of stuffing the day before Turkey Day.
I went to complete my annual Subaru purchase four weeks ago only to learn that there was nothing in the US with the color and options I wanted due to the fact that the company is limiting their 2014 production given a radical new 2015 design change. Not only did I have to pay more than I wanted, but my factory-ordered car is now on a slow boat from Korea.
As salespeople, we too often believe that most pricing is to be negotiated...unfortunately downward. There's a list price which has been determined by the smart guys in marketing and finance as a result of a formula which considers cost and competition, and as dutiful soldiers we march into the market to do battle armed with our price sheets. Always knowing, of course, that there will probably be some level of discounting depending on the deal.
How to price...
The very good news is that I'm going to save you from the lectures that I deliver to my Tufts and MIT students on the subject of pricing and just jump to the bottom line and the most important sales tactic that you can use regarding pricing. In an era of "the very educated buyer", where we as salespeople are no longer in control and the buyer is more knowledgeable about us, our products and our competition than ever before, we can price on the basis of...
the cost of goods (standard formulas)
the competition (Walmart, Home Depot)
the law of supply & demand (turkeys, hotels and airlines)
the power of the brand (Hermes, Steinway, Porsche)
...or I can price to value.
What's the specific financial value that's delivered to the prospect?
What are the business drivers that my product or service impacts?
What are the metrics that I deliver over what period of time?
What are the testimonials I could provide that attest to those metrics?
The answers to all of these if turned around and delivered through articulate, well-messaged, definitive and proactive statements become your polished
Value Proposition.
Simply stated, Value Propositions are the most powerful, most impactful and most efficient sales tool that you can use.

Recent research shows that the #1 reason salespeople do not meet their companies' quota expectations is that they fail to effectively deliver an impactful value proposition.

With a polished value proposition that becomes the lifeblood of your sales process, rather than price to cost or competition, you can actually raise your price and sell to the value that you deliver.
So as we approach the 4 or 5 day Thanksgiving shutdown-erasing even more of the available selling days between now and the end of the year-take just two hours on Black Friday to write out your value proposition, polish it to perfection, share it by email with the rest of your team over the long weekend and start delivering it first thing December 2nd.
With then only 16 selling days left in the season, it may well prove to be your most powerful selling tool enabling you to be distinguished as a soaring eagle and not as a turkey come the end of the year.
In the meantime, Good Selling!

Want to learn (a lot) more about value propositions, pricing, processes, technology tools and hiring, join 30 other managers at...
The 2014 Sales Management Boot Camp: April 6th-8th


Click HERE for information about our next Sales Management Boot Camp.
Perfectly timed for new sales management skills for 2014
Focused on you and what it takes to enable your team
Process, tools, tactics, and technology in a Sales 2.0 world
Only 30 managers are accepted
Always sold out so register early!