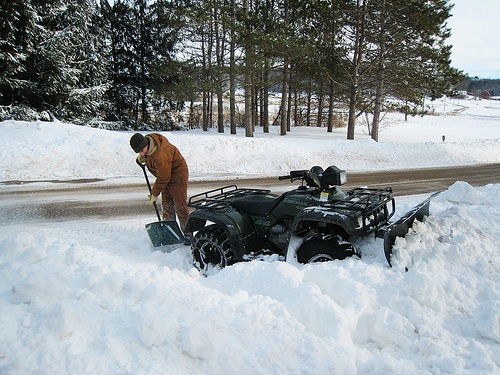 Heavy, frozen snow now blankets the woodlot. Thought that I would get one more trip into the woods to pick up the rest of the winter's kindling, but the results of Wednesday's 12 incher blocked my ATV right at the now impenetrable wall of snow pushed up by the plow guys. It'll be that way now until spring unless it warms up, which given that it's December, and this is Vermont, is highly unlikely. Just maybe, I might be able to convince my wife that a winter walk in the woods snapping off the dead lower branches would be "refreshing". My guess is that the LP will see right through that suggestion. Otherwise it's a trip to the hardware store to buy the more than expensive Georgia fatback pine kindling which works instantly, but sometimes I think that I might as well start the fire with dollar bills. It's all part of the "joy" of heating by wood in the dead of a Vermont winter. Getting past my whining, all of this is good for my head and good for the exercise even though it does mean a bit of consistent thinking about the woodstove, keeping tabs on the woodpile on not letting up on banking the fire during the night.
With "The Perfect Holiday" (friends, family, food and football) now behind us, it's that point in the year when every salesperson is concerned with just one simple thing: time. With no more than 20, (and that's being very generous), real selling days left in the year, this is the time of the season when the hard reality of actual "selling" gets down to four, deep-in-the-funnel, specific sales skills of…

…proving value propositions
…calculating ROIs
…negotiating
…closing

At this time of the year, there's zero time for qualifying new opportunities and working through discovery processes except if you've already filled your Q4 quota and are totally focused on next quarter. Since that's not the case with most of us, you might want to think about refreshing those objection handling skills from our library, or pulling Karrass's sales negotiating book off your bookshelf, or downloading Hocking's easy to read book on closing skills on to your Kindle. My guess is that none of any of that content will necessarily be new to the more seasoned salespeople, but just maybe an hour spent reading tonight and a couple of hours spent this weekend honing your skills will make the difference in managing the limited amount of time you now have left in the year. All of this is nothing different than any professional athlete would be doing preparing for the end of the season championships when everything is on the line.

You have nothing to lose, and all it takes is just a bit of time.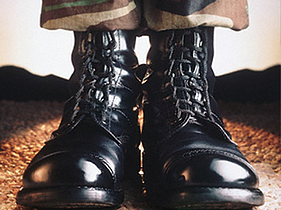 Not that there's any time for this now, but in terms of how to improve your the productivity of your sales team by 20%+, you should seriously think about attending our Sales Management Effectiveness Boot Camp April 1st-April 3rd in Boston. After a solid quarter under your belt, we know from our experience of five years of Boot Camps that a retuning, a look at new ideas and the opportunity to talk to other management professionals is just the thing to kick up productivity for 2012. Guest speakers include executives from Brainshark, HubSpot, Time Trade and Salesforce.
The Early Bird Discount is $200 off our low price/high value program if you sign before January 15th plus an additional $100 off each for you and any other managers that accompany you from your company. Plus all attendees receive a free half day Whiteboarding Session scheduled at their convenience anytime during the following six months.
Good Selling!
Jack
Head Coach