Here we are in the final 20 hours of the quarter. Maybe 10 today, certainly 10 tomorrow, and then it's over with the turn of the digital page as we rush into April on Monday morning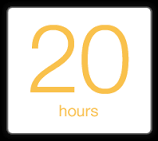 Today and tomorrow the next 20 hours has nothing to do with lead gen, discovery meetings, demos or free trials. This is that unique time of the month, or the quarter, when everything is all about closing and crossing the line to the finish. Nothing else counts since on this coming Monday morning, it's all about the number of points on the board, and it doesn't make any difference whether you're title is BDR or CEO. It's all about how you and I measure up against our quota plan, and whether we're in the column of winners or in that other column.
And with 20 hours to go, everything is possible!
The tactics and activities that we will employ over the next 20 hours are all up to our own personal attitudes, our mental conviction and strength of our mental determination to win.
We know exactly and in great detail what the Opportunities funnel looks like since we've been staring at it for the past 15 days. It's too late in the quarter for any new entries or any bluebirds, so the deals to close are the deals to close
The tactics that we can employ and the closing and negotiating techniques over the next 20 hours are actually very broad and diverse. Did you know that there are literally 38 different tactics for closing B2B orders? I'm not expecting you to use anything out of your comfort zone or even to do any research on new tactics. One, it would be a waste of your time in these 20 hours, and even if you found something interesting, you mostly probably would not have personal comfort of trying out a brand new tactic.
The better answer is to review those two or three tactics ("The Assumptive Close" for example), that you already know and put different spins on them over the next 20 hours.
The most powerful tactic is you being in love with your abilities !
Be honest with yourself. As the Patriots left the field after the first half of the Super Bowl, did you really believe that they would win? Me? I went to bed because I couldn't bear to watch the pain of what all of the facts told me would be a disastrous second half.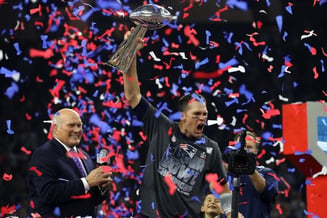 Whatever happened for the next 45 minutes inside that locker room had nothing to do with the introduction of new plays, improved training or beating players down. Perhaps, we will never know what really occurred or what was actually said, but we certainly know the results, and the results came through...

- Mental discipline and belief in oneself !
- Inner strength and personal toughness !


All of us are also highly trained and experienced professional athletes, and we all can and need to muster up the inner strength that we personally can make a dramatic difference in our expected results by the end of the day tomorrow.
There is no other time !
The time to apply that love of self is right now!
The Patriots had 45 minutes to turn the tide on their attitude and their love of self and commitment to winning for the team. You and I have 20 hours. Plenty of time...
Let's get moving! Great Selling Today!

..........................
On Monday, not today, take a look at our new video on Creating 30-60-90 Day Activity Plans, and give us a call if you're interested in holding one of our unique Whiteboarding Sessions to discover how you can improve the productivity of your sales team by 20% in 6 months.
-A step-by-step process
-The right tools at the right time
-Examples
-Training and Certification
-Discipline and Responsibility
-Not that complicated or unusual
-Just takes your leadership
...and some outside help
http://www.brainshark.com/derbymanagement/vu?pi=zF0zOSibvzFFz0


Two things to think about once the Q is ended...


Promotion for our October 1st-3rd Sales Management Boot Camp will launch next month. This unique Boston-based event for 20-25 sales leaders always sells out! Questions?...just email us or call if you want to talk it through.

If you want to participate as one of the six companies for a Tufts Sales or a Marketing project for this fall, we will start accepting project ideas now. All project drafts go out to the students on July 5th along with the syllabus with two months of pre-work and research required over the summer. This spring semester, we had 29 applications and selected 9. For the fall, I'm looking for 6 Marketing and 6 Sales projects. Email me at jack@derbymanagement.com, and we can quickly set up a time to talk through the process.