The interesting and good news about selling in 2021...
No more 3-hour a day commutes back and forth from the NH beach to Boston or Tufts
More...and much better time...with customers, prospects and students
More human...not less...interactions and "checkins" with our referral partners
Of course, there are lots of negatives, like mine of sitting in an office online most of the day and giving up my daily 5:00AM workouts in Boston-integral both to my health and not surprisingly to business while working out with business friends. Mr. Peloton down in the NH basement, next to the furnace, is a pretty good alternative, but it just ain't the same...and I have yet to receive even one prospect referral from Mr. Peloton.

So, every Wednesday night around 5:00, I pack up the trusty Subaru Outback and begin the three hour trip to the Vermont house to work there (or here this particular morning) for a couple of days. Last spring, I did the trip because of all of the VT house construction going on, but in reality, I just needed a fundamental change in my location in order to work from somewhere "different".
Been wicked snow in VT this season !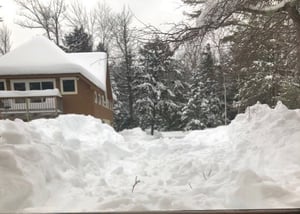 Right now, snowing like crazy...again! Yesterday, in between breaks from nine zooms, I went outside to shovel out this 8 foot wide, 2 foot deep path to uncover my office windows, so I could l could see the studio. As everyone knows, I'm a "neat & tidy guy", believing in "a clean forest is a happy forest" in the summer and the same for my long and complex driveway.
The Homestead team up the road a piece, who do the plowing and shoveling are just excellent for everything they do and especially in the big winta' snow (14 inches last week; 15 this Monday). This leaves me with the opportunity to do "clean up" with Big Red. Good for my head and best for my much-needed exercise walking 15,000 steps pushing, pulling, and often shouting at Big Red.


Snowblowing gives me plenty of time to think about Sales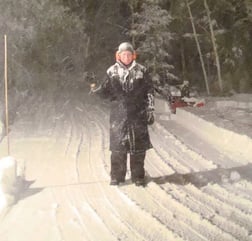 Snowblowing my complex Vermont driveway is more than art, and success quickly comes down to the process of where to start and where to finish, the science of the throw weight of the snow and when to use/not use the six forward and three reverse speeds of Big Red, shown here in the background on the right. Not paying attention to the required process leads to double the work effort and usually a totally clogged machine leading to double the time.

Exactly the same as in today's very successful "Science of Sales" processes. Those individuals who are still hanging on to "the art of relationship selling" or even the 30 year old practices of "solution selling" are, of course, very solid salespeople. It just takes them longer to get to the end point of closing deals. More importantly, our findings are that those types of antiquated sales processes are not the way that most buyers want to be sold today. Data shows that buyers didn't want to be sold that way back in "the old days" of 2019, and now the requirements of selling in a Covid and in a post-Covid world have simply forced this change. No one is going to go back to pre-Covid sales practices that wasted time and did not quickly get to demonstrating customer value.
Those sales leaders who have adopted formal sales processes using the best tools of "Value Selling" and much more effective, easier-to-use CRM technologies like Hubspot are not only getting to the end point more efficiently, they are now aligned with sales and marketing processes that reflect the way their buyers want to be sold.
For a few ideas as to how we view the Science of Sales world in 2021, just click here.

That click will bring you to the top of our "Sales Tools Page", and the article is right there. Just click on it, and you will have it without a download. Not suggesting that our concepts will work for everyone; it's just our view of what the selling world will be this year !

HAVE A GREAT DAY SELLING & A RELAXING WEEKEND!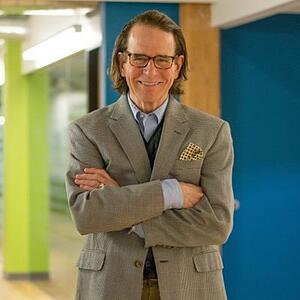 A CONFIDENTIAL SOUNDING BOARD
If at any time, you have a need for a confidential sounding board for Sales, just connect with me at any time. Text or email me, and I'll quickly set up a call. I'm a pretty good listener.
Obviously, no cost for a call or two; just an opportunity to listen intently and make a few recommendations based on decades of experience.