Winds so strong last Friday night that they blew away the outside temperature thingy that transmits to the inside display, so I had no idea what the conditions would be out on the hill Saturday morning. Not a big deal to normal people; big deal to riders and skiers-it's all about the layers.
Crazy weather-Boston temps last week and this were in the 50's, but when I arrived in downtown Bondville (population 647) last Friday night, my driveway was a skating rink frozen over by the quick plummet in the temps and the howling wind. You gotta' love Vermont, because otherwise, it will drive you nuts which is why Vermonters just love to sit out on the ice, fishing line in hand, a couple of beers by their side, just "wishin' & hopin'" for spring. But, this winter even that doesn't work since most of the ponds haven't frozen over enough for people to drag their fishing houses out on the ice with their pickups.
So whether it's the Vermont winter of 2012, or my time the prior weekend before that spent walking on my NH beach, we're definitely locked into some new season that's been created between fall, 2011 and spring, 2012. Don't know what to call it, but it ain't winter. At the end of the day, it is what it is, and whether I'm happy about my reduced propane bills, frustrated with my inability to feed my snowboarding addiction, or concerned about my friends at Stratton who live and work for the snow (BTW, there's plenty of snow on the hill), I need to adapt, stop wishing & hoping and get on with it. Very similar to my day job as a salesguy.
During January, I attended 11 sales meetings, been PowerPointed until my eyes glazed over, and rolled my eyes to the ceiling with such inspiring comments as "this is our time", "we're forging a new beginning", and my personal favorite, "we're scaling the mountain, one step at a time". The bottom line, when all of the meetings were done is that all I know is that we're now into the second month of 2012 with one month's results already posted on the scoreboard.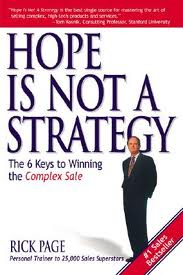 As far as I'm concerned, there's no time anymore in the jargon of any professional salesperson for "wishing & hoping". The macroeconomics tell me that 2012 is going to need to be a very calculated and watchful year of perfecting tactical execution. Just like the Pats this weekend, all of us in sales need to make rapid forward motion down the field while blocking and tackling through all of the competition. This how the game of sales will need to be played in 2012.

Two of the best company leaders among our customers, Mike Clute, the President of Ward Leonard in Connecticut, and Bruce Stevens, President of Berkshire Blanket in western Mass, both talk movingly and with repeated emphasis about "The Quality of Execution" with their salespeople… and the rest of their employees. "Quality of Execution" at these two companies becomes an unrelenting quest for quality in processes of all types, in forecasting metrics , in up-to-date procedures in every department, and in defining exactly what it takes to create customer success. This theme is much more than conceptual, and it actually becomes something that becomes engrained over time in the DNA of these companies.
"Quality of Execution" certainly beats "wishing & hoping". This year what's the rallying cry that you want to adopt for yourself with your customers, or if you're a manager, with your salespeople for the rest of 2012? What's that one phrase, simple to remember, but complex in its depth, that will both inspire your salespeople to consistently drive themselves to succeed, and at the same time immediately identify a series of tactical improvements through which they can personally contribute to that success?
Give it some thought and let me know.
Another way to uncover a number of highly successful sales management strategies and tactics is to think about attending our Sales Management Effectiveness Boot Camp April 1st-April 3rd in Boston. It will be like drinking from a firehouse, but I guarantee that you will leave there exhausted, excited and with a book of notes and ideas ready to be put into practice so that you will have dramatic impact during the next six months.
We know from our experience of five years of Boot Camps that a retuning, a look at new ideas and the opportunity to talk to other management professionals is just the thing to accelerate the productivity of your sales team for 2012. In addition to our core lecturers, guest speakers for this session will include executives from Brainshark, HubSpot, Time Trade and Salesforce.
All attendees receive a free half day Whiteboarding Session scheduled at their convenience anytime during the following six months.
Just email me at jack@derbymanagement.com, and I'll set up a 10 minute call to answer your questions and walk you through the details of how to register.
In the meantime, Good Selling...and Go Pats! Should be a great game!