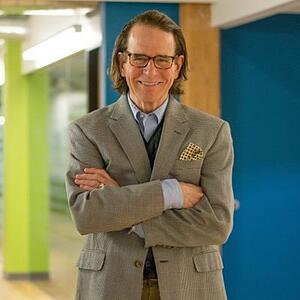 This time of year, in between Zoom and Team calls, I've been ankle-deep in the dirt and last weekend's mud in the gardens in both NH and Vermont planting, cutting and weeding. It's good for the soul and my hyper-sense of organization to be able to dive into the deep end of the mud and "get er done" no matter what the weather...or the business...forecast is.
Right here at the beginning of June, our Q2 business forecast is looking pretty good among all of our clients now working through the details to end with a robust close to the quarter. Concerns about supply lines and labor unknowns are obviously top of mind, but business forecasts in general seem to be solid for the next four weeks.
When I got in the car last night to drive from Boston to Vermont for a day of morning meetings and garden work this afternoon, the weather forecast also looked pretty good, and I planned my calls and meetings for the day around that forecast. Early this AM, it's a raw 55 degrees and pouring rain, but somehow the outside work still needs to be completed between lawyer calls at 10, a weekly Team meeting at 11 and a F2F 3:00 new client meeting this afternoon.
Bottom line is that weather forecasts change all the time, and of course, we have zero control, but yet, the work still needs to be completed. Business plans and sales forecasts go through just as many variations as the unknowns of the weather, but at the end of a week like today and the end of the quarter in less than four weeks, sales quotas still need to be met and operating plans and product commitments completed just as we forecasted.


As anyone who has seen my Vermont woodlot, everything is "neat & tidy" especially in the spring and summa'. That organization allows me ready access to a season's worth of kindling and two of the four cords of wood I burn every winter.
Having everything organized and "in its place" is the way I work out in the woods and also in my management consulting work since that level of organization allows me to have "extra time" when the weather changes or in the case of work, unexpected client speed bumps occur.