Tufts University $100K New Ventures Competition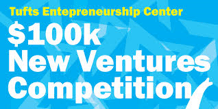 The business plan pitches were Wednesday, and the awards were made last night. This year yet another company, Mimir Insights, with several of my marketing Alums won the top prize in High Tech. This is what real entrepreneurship...at the street level...is all about. Congratulations to all of the entrepreneurs!!!!
Tremendous excitement all over campus this week with energy and stress levels cranked up to the stun level as brilliant young entrepreneurs reached out to the greater Tufts community for guidance, connections, and a bit of critical cash to allow them to take that next giant step forward.
Having the privilege of being a professor of marketing in the entrepreneurship studies program at Tufts, I'm obviously caught up in the momentum of all of this, but I also understand that unless you're a Tufts student or alum, you may be thinking, "Nice to hear, Jack, but 'So What?'"


I have two answers to that question...
1. Tufts' approach to entrepreneurship is different.
Years ago when I was Chairman of the MIT Enterprise Forum of Cambridge, we actually gave birth, along with what was then called, "The MIT Entrepreneurs Club" to the first of the business plan contests in the country. This happened because, one, we had a structure in MITEF with members, sponsors and administration that could support this novel idea, and, of course, we have wicked smart and energetic students who believed in their futures as entrepreneurs. And so, as a result, "The $10K Annual Business Plan Contest" was created.
Adjusted for inflation both in money and in spirit, the $10K quickly became the $100K in two years, and the idea of business plan contests rapidly spread to pretty much every university in the U.S....including Tufts a few years ago, under the watchful guidance of Inge Milde, the Director of The Entrepreneurial Leadership Studies program.
Of course, we embrace entrepreneurship at Tufts, but I believe that the broader, and perhaps the more important strategy, is the university's approach to innovation. Too often today, when we say the word "entrepreneurship", we immediately think of high tech, biopharma and other tech-edged markets. While Tufts does have a superb and highly regarded school of engineering, we also have one of the leading medical schools in the world, one of the top veterinary schools and certainly the foremost school in international studies and diplomacy. In all of these disciplines "entrepreneurship" is certainly understood and practiced, but it's really "innovation" and the discovery of new approaches, new thinking and new ways of doing things that is emotionally embraced everywhere on the various campuses.
2. I have gifted entry-level sales and marketing students available
This second answer actually has two parts. The first is that with graduation only a month away, I have a number of my very gifted marketing students available for both full time hires and summer internships in Marketing, as BDRs or as Customer Success reps. I also can connect you directly with other professors and, of course, with our fantastic Career Services office.


The second part of this statement of having students available is my...
semi-annual hunt for new marketing projects
All of these thoughts about New Ventures Week bring me to the point of kicking off my semi-annual hunt for six new marketing projects for my fall Tufts students.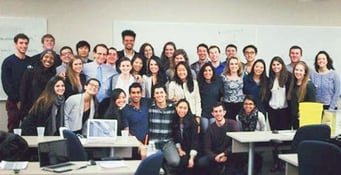 Each semester the marketing content of my class is wrapped around six real-life projects provided by a variety of companies who are looking for research and solutions for new products or markets.
Each team consists or four or five juniors and seniors who spend the entire semester focused on learning about marketing and then applying those principles and tactics to develop full marketing plans and research reports for their customers.


Just as examples, some of this semester's projects consist of...
a large supplier of corrosive resistant products looking to enter new markets
a North Carolina telemedicine business wanting to expand its market
a national company wanting to enter the auto cybersecurity market
an advanced robotics company entering a new market with a new product
A restaurant/convenience store rewards company launching a new product
Over the years, we have now completed 96 company projects ranging in size from a large division of a Fortune 500 corporation a couple of years ago to two hot tech startups-Spotlight Parking and Crayon-last semester.
For this spring's semester, we had 18 companies apply for the six slots that we had available. For this coming fall's semester, I need to make decisions by June 15th at which time I will send the students the first draft of the fall syllabus and the project outlines since they will need to do research and form their teams over the summer. If you choose to participate, I absolutely guarantee that you will find this an exciting, stimulating and very rewarding process for your company and one that will certainly become part of your own learning experience.
If you're interested, just email me at Jack@derbymanagement.com, and I'll send you an instruction sheet which outlines the requirements and the logistics for this coming fall semester.
Tune Up Your own Business & Marketing Plans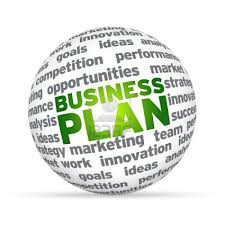 Also, since you've now completed Q1, you just may want to put aside a day during the next two weeks to refine and update your 2016 business plan, or at least your sales and marketing plan. To get you started, click on here and receive a downloaded copy of our Writing the Winning Business Plan, 2016 edition.
Another opportunity for kicking off the quarter in the right spirit is to do the same type of "relook" at the basics of your 2016 Marketing Plan after reviewing our ebook on "How to Write a Marketing Plan". It's mostly solid basics and tactical structure stuff...which just might be the perfect thing to do right now before you dive into Q2.

Derby Management...for 25 years
-Sales & Marketing Productivity Experts
-Business & Strategy Planning Specialists
-Senior Management Coaches for CEOs & VPs

Box 171322, Boston, MA 02117
Jack's Cell: 617-504-4222