We're all squeezed for time.
No new news here. We continuously balance our work and
personal time commitments. We endlessly shuffle our
schedules cutting off 15 minutes here and there to be able to
squeeze in another call, another meeting or just maybe a vacation day here and there. We know that there is no such thing as Work-Life Balance except in the fantasy world of academics, and what always loses out in trying to create that balance is that over-rated sleep thing.

Up at 4:00 yesterday, after a 2 hour trip, I found myself at a customer's at 8:00 and then spent the afternoon in Providence at a quarterly board meeting. The company is doing great, and perhaps not coincidentally the meeting began and ended with comments from the senior management in this high-performing business about the fact that they were more stressed for time than ever before. They commented that there customers' demands for their time were accelerating at a quicker pace and that those same customers were constantly being pressured themselves by their customers and the new normal of their retail markets for even quicker deliveries and faster design cycles.

Arriving back in Boston just before a customer dinner at 7, I managed to squeeze in a few minutes with my friend Brian, a long term EVP at one of our customers. With 5 weeks of vacation every year, he proudly told me that the only way that he had figured out how to use any of that time was to put himself on a regimen of taking Friday's off. Cute idea, but in the reality of Brian's unforgiving schedule, let's see just how many weeks that works...as in NEVER!
Friend or Enemy?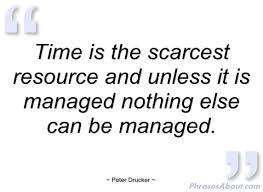 Nowhere is time more of an ally or can be more of a negative than in the world of Sales. Think about the language of sales management...
Monthly

quotas

Monday morning

status calls

Quarterly

account reviews
Prospecting

time

Annual

territory plans
All of which you can look at either through the lenses of...
the salesperson in-charge-of-your-time guy, or...

the woe-is-me-I-can't-control-my-customer's-time-guy.

The first step in this entire process of taking charge of your time is the recognition that you can actually control your time, the time of your customers and the time of your sales team. And to a large degree, you have no choice but to do this since you have zero control over the bigger issues that will also impact your time economic stability , global hunger and world peace. Putting those issues into perspective, then figuring how to control your own sales time is pretty easy.
And so, I thought that I'd do a series of blogs on this issue of time management. How many blogs and how frequently depends on you as readers. No Comments, no Likes, I'll go back to my weirdly diverse stories about living in NH and VT, tying in whatever sales or marketing theme seems to hit me on that particular day.
OK, so, where do I start?
First, you need to map out how you're spending your time now. Sit down for an hour this weekend, start reviewing your calendar over the last three months, and figure out your own blocks of time for actual selling, prep and research, prospecting, lead management, administrative and CRM, traveling, meetings-both sales and "other". Whatever the major blocks of time are that make sense to you. What we're focused on here is to figure out the actual time spent working opportunities in the sales funnel. "Opportunities in the funnel" are the operative words. Not marketing, not lead gen, not prospecting, not onboarding and servicing. Actual time in the funnel. In order to get there, you're going to have to attribute time to those other sectors also.

A few B2B-all industries-stats to help you think about your own mapping:.
Average "successful" salesperson spends 57 hours a week working
Roughly, that's 3,100 hours a year
Lose 25% for holidays, vacations, sick, & non-utilizable time
You now have around 2300 hours "available"
37-39% spent F2F or over the phone actually selling
19% spent generating leads and researching accounts
17% on average spent in administrative meetings
14% in handling customer service calls (not selling)
11% in travel and training
How do you stack up? Then, the most important questions if you really want to control your time are- "How EFFICIENT are you and your sales team?" and "How EFFECTIVE are you and your sales team?
Other random stats to consider...
Satisfaction
-Only 18% of buyers say meetings with salespeople meet expectations
-Only 7% say that they schedule follow on meetings as a result
-60-70% of pre-decisions are made without contacting a salesperson

Sales Training
-35% of the knowledge acquired during sales training is lost in 1 month
-That number rises to 90% after 6 months on the job.

Support
-7 hours per week is spent by salespeople preparing for a call
- $135K/year is spent to support a salesperson (marketing, services, tech & training)
Homework: Figure out your ATS
Create your own time map of your approximate time as a sales manager
Do the same as a salesperson or salesperson/manager
Figure out your ATS (Available Time to Sell) in hours/month
Do that by month for September through December
Talk to you in our next blog next Tuesday as to what to do next. In the meantime, remember Ben Franklin's simple quote "Time is Money". If you think deeply about this, and then force yourself to recognize that it's impossible to expand time (the Einstein thing), then you're ready to begin this process that you absolutely must be able to figure out how you can be more effective in your use of time as a salesperson.
Good Sales Planning for the 2nd Half!

- It's selling out quickly!
- Free "Whiteboarding Session"
- Learn about Sales Enablement
During our upcoming 2013 Sales Management Boot Camp, we'll talk a lot about the best sales planning practices of...
-Sales Enablement
-Creating Value Propositions
-Hiring & Retaining the very best salespeople...plus many more topics
Late Sunday afternoon, October 6th through Tuesday afternoon, October 8th at the MIT Endicott House. Six years, 350+ highly satisfied graduates!

with

what gets left out in most cases is

Time can always be managed. It can be an ally