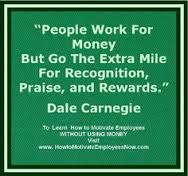 To the uninitiated, the managers who never actually sold anything, the presidents who did not climb up the rungs from entry-level sales positions to become the #1 salesperson, and to the operations managers who regard salespeople as a necessary evil, the presumption is that money drives success in salespeople.
Those people have little idea of what happens in the real world of sales professionals
It's simply, not true!

Never has been true according to every major study on success

Money is a great motivator, which is why we have comp plans

But, money is not the #1 motivator

It's actually ranked #6 or #7 in most studies
What drives successful salespeople is peer recognition as being a top performer
The recognition of being singled out.

To be thanked in public in front of their peers

To be Salesperson of the Year

To be asked by management to lead a sales skills training class

To be recognized through President's Club
As we approach the all-important end of the 2nd Quarter, and since you will be spending time during the first two weeks of July recalibrating your battle plans for the next six months, think outside the constrained box of your 2014 comp plan to figure out a small number of monthly public recognitions events that you could use with your salespeople to drive success over the next six months. Something very public. Something personal. Something that has an impact. And, something that's fun.
If you left it up to me, I'd create a contest to provide The 2014 Salesperson of the Year with The 2014 Car of the Year, the new 2014 Corvette Stingray, but then that's me, and it's also why I was never put in charge of the comp plans in any of my companies.
But, you get the point. Something that when a comment is made to a top performing salesperson like "Wow, nice Corvette!", the response is "Yes, my company provides the #1 Salesperson with a 12 month lease and all expenses".
I've seen this process unfold very successfully with trips, with gift certificates, and, in my own case, when I was on the receiving end of a gold Rolex that I still proudly wear today, 28 years later. But, these rewards don't need to be expensive. I've seen extremely positive results each quarter during our sales review meetings at Lake Sunapee Bank, when one of the senior executives provides Kindle Fires to those sales professionals who qualified to be in the drawings.
Is it the Kindle or the Rolex or the Vette that drives behavior? No, it's the fact that the reward is made in front of all of one's peers by the senior management of the company! And for that one small instant, those individuals are publicly applauded for performance that went above and beyond.
Yes, I know I'm going to receive comments from my CPA friends about taxable income for the Vette and its expense and the need for signed disclaimers, but that's why CPAs don't run commercial companies. I also clearly understand the risks of setting expectations and making sure that the primary driver is the official 2014 comp plan signed back in January and not the ultracool black-on-black 2014 Stingray. But, this is not a discussion about changing policy; it's a discussion about...
creating personal motivation for the toughest job in any company

driving more sales in the second half of the year

recognizing top talent that achieved above and beyond

...and needs to do it again

having some fun while doing it

and putting a personal touch on rewards and public recognition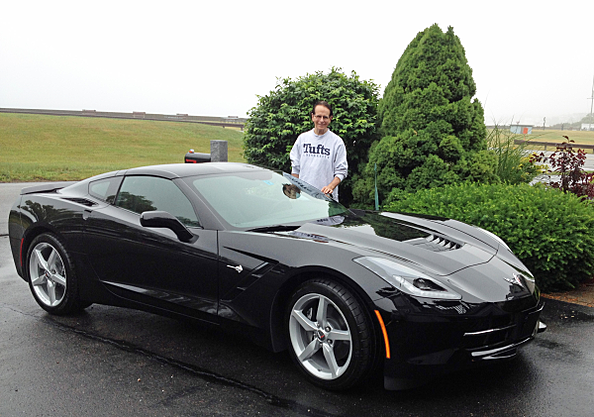 Not sure what type of personal recognition system works for you. The Corvette works for me. But what I do know is that to do nothing, will get you just that: nothing special, nothing extra and nothing gained. And that would be a waste of a very important and easy-to-achieve opportunity.
Congratulations on making it through the 1st half successfully !
Take a breather, use the next few days of next week to get your Q3 plans in place, and relax for the long weekend of the 4th because come the 7th, you're back on the field scoring more goals.
Keep Selling...and treat yourself to a reward this weekend! You earned it!

jack@derbymanagement.com
617-504-4222