"Everybody has a plan until they get punched in the face." -Mike Tyson
If your last image of Iron Mike chewing off the ear of Evander Holyfield was a bit too graphic, then maybe some of the following highly positive quotes might be more representative of the reasons for careful planning...just so that you don't get punched in the face.
"Failing to plan is planning to fail"-Alan Lakein

"Good planning is important"-Edmund Hillary

"There must be forethought,...planning, & honest purpose"-Edison
Very nice, happy-talk quotes from obviously important people; however, in the day-to-day tumble of running our own businesses, the following are much more indicative of what happens in the real world of business planning and tactical execution:
"Plans are nothing; planning is everything"- Dwight Eisenhower

"A good plan violently executed now is better than a perfect plan executed next week"-George Patton

"Management is all about managing in the short term, while developing plans for the long term"-Jack Welch
With Thanksgiving now in the rear view mirror, and the rhythm of the seasons rapidly unfolding as we march steadily toward Christmas, it's also that time of year when all of us have to submit business and sales plans to our various boards, bosses, employees and peer managers.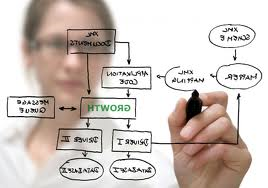 Just to give you a bit of an assist in polishing up your almost-finished business and sales plans, I have a couple of thoughts this morning that you might take into the work you're going to be doing this weekend.
1. The first is our own free Writing the Winning Business Plan, now in its 10th plus year of revisions with over 100,000 downloads and handouts.
It contains the basics of strategy and objective setting, team engagement and the rules of the road relative to writing and delivering a solid business plan. Hope that you enjoy reading it.
2. The other assist is an interesting summary infographic that I saw earlier this week in my daily review of various favorite marketing and planning blogs. I've pasted it below.

Although there's not a tremendous amount of depth in this, I did think that the graphic itself and its accompanying text were useful, quick, and to-the-point simple reminders to get your planning juices running as you polish up your final drafts. For the full text of the blog by Gloria Quintanilla of Startup Squad, click HERE.
So, that's it. Hopefully a couple of helpful pieces of content to assist you during this very complex and busy month of December.
Comments and questions?
I continue to be an avid student and hopefully an educator of everything about business planning, so if you have questions, comments or just want to talk through your ideas, ping me, and we can either do an "Ask & Answer" by email or set up a phone call to take place during my long commute home every night.
Good Planning for 2015!

Head Coach
Derby Management...for 25 years
-Sales & Marketing Productivity Experts
-Business & Strategy Planning Specialists
Box 171322, Boston, MA 02117
617-292-7101
Jack's Cell: 617-504-4222