20 years from now, you will be more disappointed by the things that you didn't do than by the ones you did do.
So, throw off the bowlines. Sail away from the safe harbor.

Catch the trade winds in your sails.

Explore! Dream! Discover!
...Mark Twain


Yesterday afternoon was the first of our exam days; the second happens next Wednesday. It's on these two days that three teams each consisting of four to six students will present the results of their semester-long marketing projects to the senior management of their client-companies. I teach marketing in a process of "Content in Context", which is based on teaching the content of marketing and sales within the context of real companies who provide us with complex marketing or sales projects. This semester, we have...


Two early stage startups in NYC and in Boston,
A hospice company in Arizona, New Mexico, Nevada and Colorado
A very large public chemical company rolling out a new product in a brand new market
An expanding cookie company with a new formulation
This semester began by unfolding the fundamentals of market research. It then quickly expanded to the intricacies of SWOT assessments and product life cycles and gained velocity with exciting lectures from past alums from this course on the complexities of pricing (Abby Curran at Simon Kucher), creating Hubspot blogs (Adrianne Crow at Hubspot) and launching dynamic Facebook campaigns (Ramiro Sarabia at FB).
Just an absolutely superb semester, which yesterday afternoon came down to three 50-minute presentations and the transfer of reams of research and complete marketing plans to the management of our host clients who will grade 50% of the course while I and my superstar TAs, Peter and Sterling, will grade the other 50%.


And All through this 13 weeks, everyone remained curious
Working with my own students and watching our 18 professors at the Tufts Entrepreneurship Center become deeply involved with our 800 students every year working in both our classrooms and in the 25+ events we host every year, the single most important attribute that stands out more than any other is that students in general, and our Student-Entrepreneurs specifically remain consistently curious.
They ask more probing questions more often and more deeply.
They care most importantly about what their prospects and customers actually think
They do deep, penetrating real research.
They push themselves to find the very best team members and experienced advisors.
The Results of the Tufts $100K New Ventures Competition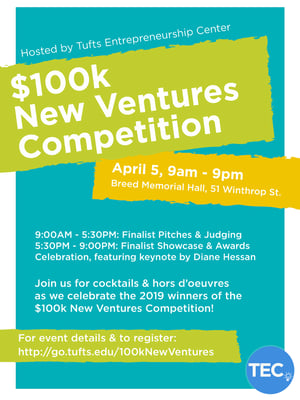 And for me, nowhere was this curiosity better demonstrated than over the last four months of applications, screenings, presentations, coaching sessions, semi-finals leading up to the final judging last Friday at the Tufts $100K New Venture Competition. Driving home Friday night after a 14-hour day of judging sessions, awards and celebrations, I thought about the one or two key differentiators among all of the hundreds of applicants and also among our best students...and I kept coming back to that same one word, "curiosity".
The winners (there were no losers during this four months of just extraordinary work) are listed here. If you're interested in getting involved with us at the Tufts Entrepreneurship Center, just connect with me directly.

Also, if you want to apply for a marketing project for the fall semester, just connect with me, and I'll send you the instructions. Project deadlines for the fall are June 1st!
Curiosity also defines the best salespeople
During my commute home Friday night with the buzz and excitement of the day still ringing in my head, I also realized that more often than not, it's also curiosity that defines the best salespeople:
They ask BANT questions much more thoroughly since they really want the answers.
They truly care about the value they provide, so they must understand their customers better.
They understand and are more thorough in exploring their sales process, tools and metrics.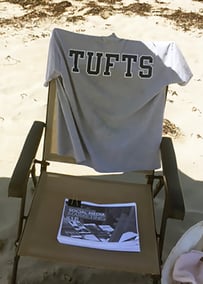 So, just maybe, my word for this summer's beach reading is to push myself to be even more curious!
This time of year, I'm starting to assemble my summer reading list by cutting out articles and throwing the books that need to be read this summer in the summer beach bag hanging in the garage.
And, of course, every summer, I update a new edition of our How to Write the Winning Business Plan book, used at MIT and at Tufts and also promoted on our site.
Have a great day selling something today! ...and really think about what it would take to become more curious about yourself, your work, your customers and the people around you!
If you want to fill that curious streak, and Up your Game in sales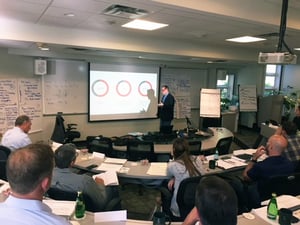 In fact, that's what happens at our upcoming Sales Management Productivity Boot Camp in mid-June!

Between the end-of-the-day working dinner over case studies on June 16th and mid-afternoon on June 18th. Designed for sales managers at any level, this always-sold-out intense experience is specifically customized to maximize you and your team's performance so that you beat your 2019 Quota!
Too many details to cover here plus most of the outline is on the site so just click on above. Much better to just connect directly with me at jack@derbymanagement.com, and we can set up a 10-minute call to judge fit and answer all your questions.
After many years of doing this with now more than 1,000 sales managers, presidents and CEO's, we just simply guarantee success and very positive results!

Please stay connected!


Jack Derby, Director, TEC-Tufts Entrepreneurship Center
Cummings Family Chair Professor of Entrepreneurship
Spark-Incubate-Accelerate@Tufts
Come to our Events
Cell: 617-504-4222 jack.derby@tufts.edu

Advisor, Derby Management, experts in-
-Sales & Marketing Productivity
-Business and Strategic Planning
WHAT WE DO AT DERBY MANAGEMENT