Fingers in the dirt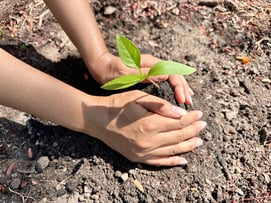 Superb weather lately, but not so good for snowboarding with wicked cold and bulletproof ice, so two weekends ago, I stayed at the NH beach to rake the lawns in 60 degree temps and take two passes through the gardens on my hands and knees with fingers in the dirt cleaning up the winta's debris. Like you, I lead a busy work life which I love, and for as long as I remember, relaxation for me is a few hours every weekend in the NH gardens or cleaning up the Vermont woodlot which provides a perfect physical and mental break away from my computer and long Boston commutes.
This concept of "fingers in the dirt" is also always what I expect to see in every management hire we make in our companies and in our venture investments. One of the skills I expect from every senior "C" level manager we bring into our companies is for that person to be able to easily and quickly ride a sine wave from deep involvement in strategic thinking at the top to fingers-in-the-dirt knowledge of how to execute and measure tactical details at the bottom.
An example for a CMO would be that that person would know from their experience and skills the strategies, the values, and the specific metrics of both Inbound and Outbound Marketing. An absolute given would be that they would understand what strategies would work with what tactics at what expense yielding which lead gen metrics over a period of multiple quarters. That would be strategic involvement. A "fingers in the dirt" mentality would be that person's ability to create effective blogs and efficient social media posts tied directly to personas and value proposition using a Hubspot CMS or similar marketing platform …even though the CMO would be handing the execution of those tasks over to associates and interns.
Same for a CRO. Of course, that person should be able to map out annual plans deciding on the investment level of direct, indirect and partnership models in their sales strategies. Critical strategic decisions for both short and for longer term annual growth. At the bottom of that sine wave would be the fingers-in-the-dirt ability of that CRO to create with the individual salespeople both monthly and quarterly detailed "Plan the Plan" tools. I take this phrase from well-known tech CRO Colleen Honan who lectured in my Science of Sales course this past Thursday outlining her sales management tools of weekly meetings, excel tools, coaching examples and what her personal mission statement of what it takes to be a sales leader.
I will drive exponential growth and profitability through rigorous process and setting high expectations while recognizing and rewarding success. I will gain the trust and respect of the organization through listening, learning and collaborating in order to make informed business decisions.
Rapt attention from everyone in the class with four telling me that her talk solidified their decision to explore sales jobs.
This same detailing of the practice of a "fingers in dirt" mentality applies to the criticality of hiring salespeople, which, in general, most sales managers do not do well. The tech software metric is that, on average, salespeople remain in their job for 2.7 years, which is a ridiculous number considering the amount of time it takes to identify, hire, onboard and then move to full quota ramp speed, which is usually 18 months. We've looked at the best tech companies and created detailed playbooks on how to do hire differently, which always comes down to a detailed "fingers-in-the-dirt" mentality. I have a few of those outlines pasted HERE. Just scroll down the page to Section 4 and the video titled Hiring Salespeople, Step 2 How to Hire-Skills, Experience & Attributes. Any problems, just email me, and I will send you the file.
Thinking of dirt, the coming of spring planting and careers, I cannot leave this morning's blog without mentioning my friend, Nick Cutsumpas, better known as Farmer Nick, one of my most interesting Tufts alums, who moved his career from his first job out of Tufts as an IBM bizdev person to follow his passion and is now a very well -known Plant Coach, Urban Gardener, Eco Landscaper, TV personality, influencer and author appearing in Vanity Fair and other media. There's a lot of what it takes to be a successful salesperson in what it takes to be a successful entrepreneur, and Nick has demonstrated that drive perfectly!


2023 SALES PLANNING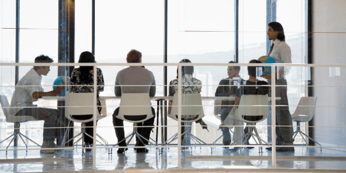 For more than a few ideas and real fingers-in-the-dirt details, take a look at our free Writing the Winning Sales Plan for 2023.

Or you can just email me, and I will send you a free copy, and, of course, connect with me at any time for questions, comments or just catching up.




CONNECT ANYTIME!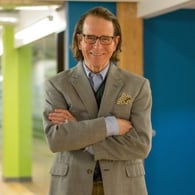 Connect with me at any time for some quick ideas and feedback.
There's never a cost for a call or two, plus I love listening and talking about Sales & Marketing.
www.derbymanagement.com
Derby Entrepreneurship Center@Tufts.