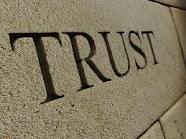 Last week's blog dealt with that big word, "TRUST" as seen from the other side of the windshield of the increasingly complex world of the sales warrior. In a fast-paced, over-charged environment which bombards me with thousands of marketing messages a day, just where does that trust thing figure in?
As I mentioned last week, one of my personal goals for 2012 is to focus on increasing my level of sales and marketing interactions from one of us being referred to as 'the consultants" with some of our customers to one of being the "trusted advisers", a level that we have achieved with numerous customers, but certainly not all. Since we're largely a New England/Upstate NY/Eastern Canada firm, the same thing applies to our lead referral system, so as a result, this year, we've narrowed our internal focus to working with just 10 firms where we're putting a lot of time into referring them business…and hopefully getting a few leads in return.
So, this morning, I have a different kind of trust question for you? Do you trust your peers on your sales or on your management team? Hopefully, that answer is… "What the heck? Of course, I do", but having asked this question hundreds of times now beginning in early January, the answers I'm hearing are heavily leaning toward… "Absolutely, but…", and …"Of course, however, I do have an issue with one of my guys".
The problem with that answer of "kinda" or "yes, but" is that you're thinking, the real answer is "No", and the problem with "No" is that you and the rest of your sales team or your management team lose time, efficiency and operating effectiveness when you operate in that mode...even subconciously. What happens consciously is that when that layer of trust is not there, you spend just as much time trying to plan and think through how and when to approach that problem team member as you do dealing with the actual sales or operations issue that you need to discuss and work on. When there's not total, unequivocal and absolute trust, or even worse, when there's real fraying at the edges, what happens as a result is that everything just slows down, and, in this 2012 environment where new growth opportunities are just starting to open up again, slowing down is not an option.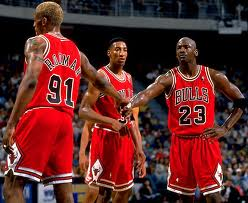 If you do feel that you have a trust issue on your sales team, how do you deal with this? Upfront and personal is the only answer. If you have a player who is more Dennis Rodman than Michael Jordan, then that behavior needs to be addressed head on, no matter what the point scoring is.
I used to think that the renegades and the lone ranger players, who produced results, were acceptable to have on the team as long as they were driving the big numbers. The reality was that I spent so much of my management time dealing with the wacko behavior problems of the renegades that I actually created more team dynamic problems, plus I didn't have any time left to work with the rest of my players. In reality, I quickly discovered that there was no more team.
Idea #1: click HERE to read about what the Chicago Bull's team psychologist, Dr. Steve Julius, has to say about team dynamics and then ask yourself "Can I take one of those six ideas and apply it today to my sales team?" Impossible for me to believe that you can't.
Idea #2 is to begin opening up this "TRUST" discussion on a regular basis, once a month, among all of your team members. "Do you feel that we trust one another?", and "What's it going to take to build more trust among us". If you don't find that "TRUST" is the correct word, or it makes you or your team members too uncomfortable, then substitute "RESPECT" and see if that gets the discussion going. Remember, however, this "TRUST" discussion theme is meant to create some level of discomfort at least until you discover what it is that's creating the lack of total trust.
If I want to become "The Trusted Partner" with all of my best customers, there first needs to be total trust internally among the players on my team, which is where I'm spending time during this year.
Good Selling for the balance of the quarter! I trust that you're on your numbers...
With the quarter winding down, you might want to think about attending our Sales Management Effectiveness Boot Camp April 1st-April 3rd in Boston. We know from our experience of five years of Boot Camps that a retuning, a look at new ideas and the opportunity to talk to other management professionals is just the thing to accelerate the productivity of your sales team for 2012. In addition to our core lecturers, guest speakers for this session will include executives from Brainshark, HubSpot, Time Trade and Salesforce.
All attendees receive a free half day Whiteboarding Session scheduled at their convenience anytime during the following six months.
Just email me at jack@derbymanagement.com, and I'll set up a 10 minute call to answer your questions and walk you through the details of how to register.