Fall officially starts tomorrow, but in my trip to Vermont house last weekend, it was obvious that the rhythm of the seasons was in full cycle which is great since the fall season provides 25% of the tourist income for the state. Vermont is absolutely in full rhythm for the fall:
all of the road damage from the recent floods has been fully repaired.
early morning temps are in the 40's with a unique Vermont smell and crispness.
the leaves on the slopes of Stratton and in the swamps are already turning.
the folks at the general store are definitely tourist-ready.
The Rhythm of Being Sales-Ready
As a salesguy, heavily steeped in funnel process, I grew up in a BANT world of Budget, Authority, Need and Time. Invented in the 1950's, by what was then termed as "the most successful sales company in the world", IBM coined the acronym in the same way they demanded that their salespeople needed to wear dark suits, white shirts, bland ties, and, yes, it is true that they did enforce the wearing of a hat on sales calls. I never worked for IBM but had the experience of working for a very large medtech company, where BANT was the law of the land, although I could never figure out why we would begin a discussion with what I thought was the affrontive "B" word in asking about budget first.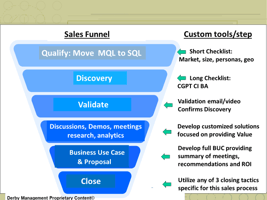 Years later, I continued to employ BANT, and when I crafted my Science of Sales course at The Derby Entrepreneurship Center at Tufts, BANT became the cornerstone of not only how I sold back then, but also how I continue to think about the rhythm of any sales process in terms of my own adopted rhythm of "Process-Tools-Technology-Math & People". There needs to be a rhythm to a sales process, and in my simplistic thinking, that becomes a funnel like what is shown here.
At Tufts, where I've now been teaching for 20 years, I have the privilege of bringing back to campus, a number of my best alums as Sales and Marketing instructors for specific segments of these very unique courses where we work with semester-long projects brought to us from real companies.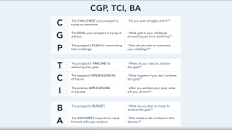 One of these instructors is James Stone, now the Head of U.S. Midmarket Sales at Hubspot, where I opened the door for him years ago. James is a close friend, and a disciplined sales expert who has developed a unique style of pointed light humor in his style of sales management and instruction. Years ago, while lecturing in my class, he turned to me and asked... "you're not still using that old BANT stuff, are you? I thought that you had finally advanced into Hubspot's CGPT-CI-BA".
James was correct since he brought with him to his lectures, and more importantly to his success at Hubspot, the rhythm of "The Hubspot Way of Discovery", and I simply had not made the change. That change occurred that day, and I have never looked back at my old friend, BANT. I became Hubspot Certified in Inbound Sales the next day requiring my students to do the same, and the world of Sales and teaching about Sales quickly became easier, faster and much more productive in its simplicity of a rhythm.
Challenges. Everyone will tell you about their challenges if you frame it to a time period.

Goal: Simply ask about specific goals framing it to the same time period.
Plan: Do they have a plan to achieve that goal by that time period?
Time: Just confirm that time: end of a quarter, a year or a specific month.
Consequences: What are the consequences of achieving or not achieving that goal?
Implications: Would there be other implications?
Budget: Now this is the place of appropriately asking about budget
Authority: And finally, in addition to the person, who will need to be involved in decisions?
HAVE A GREAT DAY SELLING TODAY!!!
2023 SALES PLANNING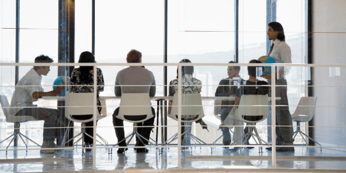 Check out our updated sales productivity site page. Just page down to get our new edition of Writing the Winning Sales Plan for 2023.
Or you can just email me, and I'll send you a free copy. Connect with me at any time for some quick ideas and feedback. There's never a cost for a call or two, plus I love listening and talking about Sales & Marketing.
www.derbymanagement.com
Derby Entrepreneurship Center@Tufts.