George Simmons, Partner, Derby Management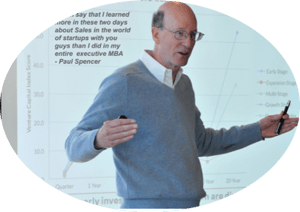 George Simmons has over 30 years of executive experience in Finance, venture fundraising, strategic and business planning, Sales, Sales Analytics, Operations and Recruiting at both public and private companies.
At Derby Management, George specializes in working with early stage and middle market technology, manufacturing, distribution and service companies providing a variety of services including….
...providing financial, operations and sales models plans
...facilitating strategic and business planning sessions
…providing detailed management quarterly plan follow up
...identifying, recruiting, and onboarding senior managers in Finance and Sales
...developing hands-on sales processes that shrink selling cycles
…implementing sales and financial metrics that improve forecasting accuracy
…providing interim executive management
You can contact George directly at
george@derbymanagement.com
George Simmons, Head Coach, Derby Management
George Simmons has been a Senior Partner at Derby Management for 18 years. He has served as CEO, COO, CFO, and heads of Sales for both public and private companies in a variety of industries including Software, Tech Hardware, Medical Services, Distribution, Industrial Products, and Packaging.
George specializes in projects involving Sales Optimization Processes, Sales and Financial Management Recruiting, Sales Management design, Value Propositions, as well as Finance, Capital Planning, and Fundraising.
As a long-time member of Launchpad Venture Group in Boston, one of largest angel investor groups in the U.S., and at Cherrystone Angels in Providence, George has been active in funding early stage companies. Both groups combined have invested over $100M in entrepreneurial ventures.
George's background covers a range of business challenges including:
Led an industrial company from 4 years of losses to continuing profitability in 3 months
100+ Sales productivity assignments
President of a tech packaging business recapitalizing it with new investors
COO of a technology medical services with complex sales and distribution challenges
CFO of Zoom Technologies when they grew from $12M to $70M in three years
Numerous successful merger and acquisition deals
George lives with his wife and large golden retriever on the ocean south of Boston and is active in a variety of maritime and coastal organizations. He is a graduate of SUNY Fredonia and Northeastern's MBA program.
George's cell 508-789-7246
George's email george@derbymanagement.com