Derby Management is a management consulting firm formed in 1990 consisting of 10 senior managers specializing in three primary competencies:
Strategy & Business Planning
Sales Enablement & Marketing Productivity
Senior Management Coaching
Each of us have held positions as Presidents, CFOs and VPs of Sales & Marketing of divisions of large corporations in addition to being founders and co-founders of a variety of successful start ups and emerging businesses.
We provide consulting and hands-on execution services for 3 Primary Services:
Business & Sales Planning:
We...

Facilitate highly integrated strategic planning and business planning processes
Provide intensive diagnostic "Whiteboarding Sessions"
Provide quarterly senior management reviews
Provide consistent follow on coaching
Build business plans with the senior management that provide tactical accountability
Execute and stay with you to implement whatever you need
Build venture and private equity-ready financial plans and take you through the process
Sales Enablement & Marketing Optimization:
We...

Increase the Sales productivity of your team, significantly and quickly
Drive sales and marketing management effectiveness throughout the organization.
Create highly usable sales and marketing processes, tools, metrics and analytics.
Conduct market and customer research based on Customer Voice analytics.
Run Sales Management Boot Camps on Sales & Marketing Optimization
Senior Management Coaching:
We...
Provide one-on-one confidential sounding board sessions
Work with CEOs, Heads of Sales and CFOs.
Provide consistent monthly and weekly face-to-face sessions
Provide weekly or monthly "Check-In" telephone calls
Develop and execute management training programs
While these are the three primary services we provide, as an outgrowth of our business planning processes, we also provide detailed coaching and execution in the area of...
Venture Capital & Private Equity Fundraising

Over 25 years, we've directly raised over $840 million in venture & PE funds
We work with you in detail to write or polish your business plan
We coach you through the presentation process
We introduce you to the right angel, venture and PE firms
We manage your campaign from beginning to end
Our team of seasoned and highly experienced operating executives is available to execute on any of these services as interim management.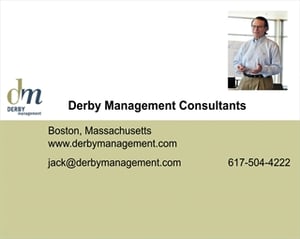 Basically, we provide a variety of services that directly assist the senior management of our customers in improving the performance of their businesses both in the short term of quarterly sales and marketing productivity and in the longer term of achieving annual and multiyear strategies.
We focus specifically on both early stage and middle market companies, located primarily in New England, New York and Eastern Canada, with annual revenues between $0 and $250 million.
Click HERE to go to this PPT
Our customers range across a purposefully broad spectrum of markets from industrial manufacturing to healthcare services to IT hardware, to software of all types, to government agencies to financial services.
These companies range from publlic corporaitions to family businesses, to entrepreneurial startups to investor-owned companies.
We believe that we're experts and have deep experiences in Business Coaching, Business & Strategic Planning, Sales & Marketing Optimization, Finance and both and private equity financing which allows us to provide growth solutions across a wide variety of industries and markets.
Deep Management Experience- "We've Sat In Your Chair"
The specific value that we provide our customers and that differentiates us from everyone else is that we have deep, hands-on operating experience, and all of us have had direct P&L responsibility in a wide variety of industries.
We take you from strategic planning to tactical execution and are by your side for whatever you need!