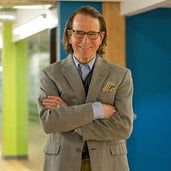 Mid-Point in the Semester...
As I approach the mid-term point in my classes at Tufts and MIT, once again, I realize how much of my personal time is as a professor teaching and working with my students, and how much I'm in a role of being a student myself in actually learning and applying new content.


Nowhere is this more evident than in my courses in Sales and in Marketing, which, even pre-Covid, were undergoing extraordinary rapid change every semester. It used to be that material I put together in the summer for the fall semester would be okay for the following spring semester, and I could use most of the same content for both Tufts and MIT. No longer! Last year, I changed 30% of the content going into the spring 2020, and then changed 70% of that material in prep for this fall's semester. This coming spring, I'll probably just start over from scratch again.
Now, deep into 2020, there really is only one mandatory rule that has not changed in Sales and Marketing, and that is to focus more heavily than ever before on marketing and selling customer value and not on you, your products or your services. 2019 evidenced the massive push into the strategy of "value selling" and the tools that go along with it, which has never been more critical than now when buyers are hyper-focused to the metrics of the value brought to their companies. Add to that the necessity of identifying and marketing directly to personas who today have zero time to waste with old-school salespeople and antiquated marketing tactics.